Streaming Crunchyroll on Discord is one feature most users want access to, but streams may experience issues sometimes. Having clues about how to stream Crunchyroll on Discord is a sure-fire way to enjoy your sessions with other users. 
Crunchyroll streaming is available on some browsers after making a few changes to their original settings. Such changes could make it easy to stream Crunchyroll on Discord and other screen-sharing platforms. 
Detailed info on how to stream Crunchyroll on Discord without hitches isn't currently available online. That's why this guide provides enough details on how to stream your favorite content on Discord whenever you want. 
Can I Stream Crunchyroll on Discord?
You can stream Crunchyroll on Discord without experiencing a black screen, lagging problems, and other issues. However, smoothly streaming Crunchyroll on Discord may be possible only with a dedicated screen-sharing app or Web browser. 
How to Stream Crunchyroll on Discord
First way to stream Crunchyroll on Discord: Through a browser

Step 1: Open your screen-sharing browser
Go to the location of your screen-sharing browser or app. Some users prefer dedicated streaming platforms like Parsec, while others will be happy with Chrome, Safari, or Firefox.

Step 2: Disable hardware acceleration
After opening your preferred screen-sharing browser or app, you need to locate hardware acceleration and turn it off. 
Turning off hardware acceleration before a stream makes it easy to avoid issues while streaming smooth content.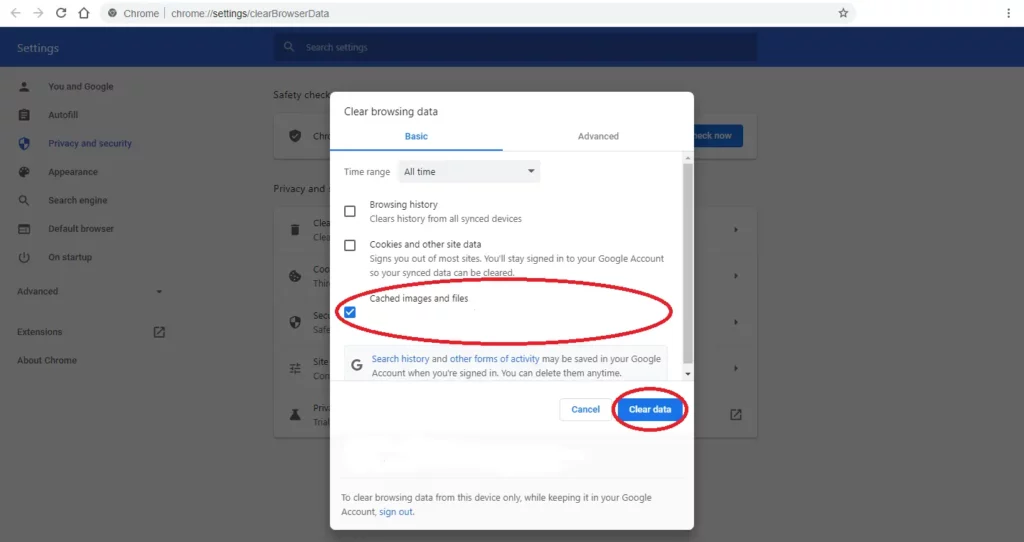 Step 3: Clear your browser cache (optional)
Clear your browser cache regularly if you plan to enjoy streaming Crunchyroll content on Discord. On Chrome, you can reset your browser cache by going to History > Clear Browsing Data. 
Uncheck other options (Browsing History, Cookies and other site date) and click on Clear data. Note that you won't have to do this every time before opening Discord. 
Step 4: Reset your Discord session
Restart your Discord session and connect to stream Crunchyroll.
Second way to stream Crunchyroll on Discord: Directly from a Discord server
Step 1: Connect to Discord server
Visit Discord through the official app or on a browser. Go to Settings and select Game Activity. 
Add Crunchyroll and select the streaming service, then choose Add Game. Go back to your main settings page after completing these steps. 
Step 2: Click on Screen and Go Live
Next, locate the Screen button and choose your app or preferred browser window. After that, tweak streaming settings to your desires and click on Go Live. 
Note that the second method may not allow streaming to a group, especially when initiated from your Discord app. If you need more people to see your streams, you have to use the first method. 
How to Bypass Crunchyroll Black Screen on Discord
Here's how to fix the black screen issue whenever you're trying to stream Crunchyroll on Discord:
Step 1: Update the app
Discord usually makes modifications to its apps to fix several issues noticed on older versions. Updating your Discord mobile or Web app could be enough to solve the black screen issue while streaming Crunchyroll.
You can download the Web app directly from their official website www.discord.com. Visit the Google Play or Apple App Store to download the latest Discord version for your Android or iOS device. 
Allow the download to complete and run its installer to update on your PC. Android or iOS devices will automatically update Discord to the latest version in your device. 
If you're still experiencing a black screen, you will have to access screen-sharing through a browser. 
Step 2: Turn off hardware acceleration
Every browser has a Hardware Acceleration option. You need to locate the Hardware Acceleration settings on your device browser and turn it off. 
Most browsers usually have this setting under System in Advanced Settings. For example, Google Chrome has this option in Chrome > Settings > Advanced > System > Hardware. 
After going through all these tabs, you will see an option saying 'Use Hardware Acceleration if available'. You need to disable this option on your screen-sharing browser to fix black screen issues when streaming Crunchyroll. 
After disabling the Hardware Acceleration option, you need to restart your session for all changes to become active. 
If you've got similar issues with a dedicated streaming or screen-sharing software, this step could be equally effective too. 
Step 3: Clear Discord cache files 
Cache files from Discord may lag future streams and cause issues, including black screen problems. You need to clear all cache files related to Discord and other programs from your browser. 
Deleting cache files will not alter any settings on your device and will make your streams more fluid. 
Step 4: Restart Discord
Restart your Discord session on your browser after following the three steps above. Your session should be able to stream Crunchyroll without black screen issues or any other problems. 
Can I Unblock Screen Sharing on Discord?
Go to Settings on your Discord app. Scroll down to App Settings and choose Voice & Video. Locate Video Settings and choose your camera from the drop-down menu. 
Restart your app after taking these steps to unblock screen sharing.