Fine tip pens allow you to write fine, crisp lines. As such, they write very neatly. They are the best choices for people who do artwork or need a pen for writing records.
If you want a 0.38 pen, the best option available on the market is the Uni Jetstream Slim Multi-Color. The Uni-ball Signo DX Needle tip follows close by and is also a great choice if you want a gel pen. And the Pilot Juice Up is an excellent option if you want a retractable pen.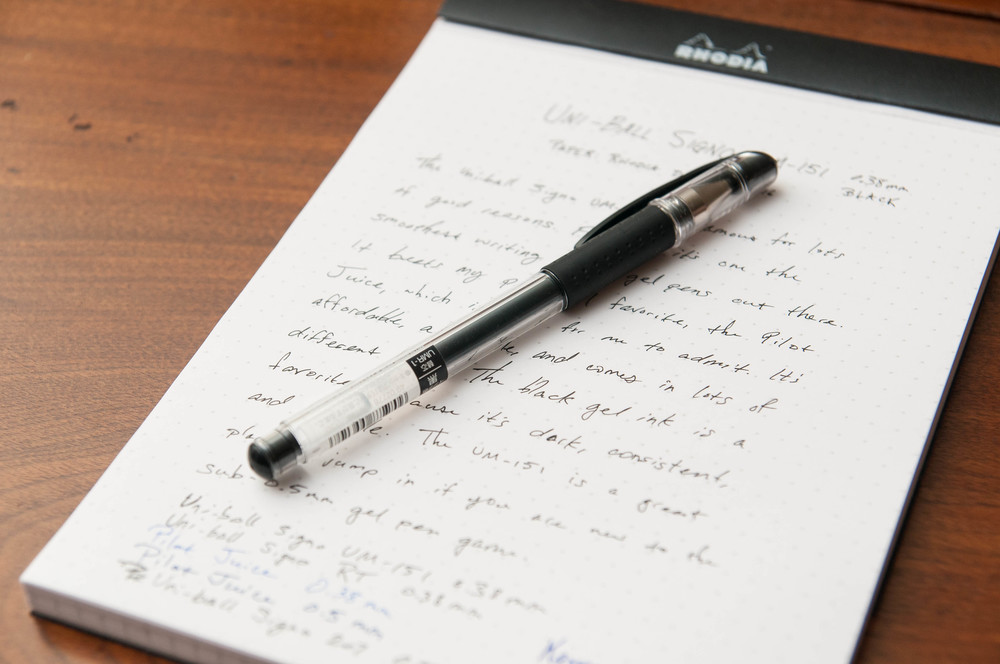 The main selling point of these fine tip pens is they allow you to write in small letters, and your writing will stay legible. Actually, they help people with bad handwriting write more legibly.
If you do mathematical computations on paper, fine tip pens also allow you to squeeze in more lines of small symbols. With that, you will be wasting less paper. Consequently, fine tip pens will allow you to save resources.
With all these said, keeping a fine tip pen with you is a great idea. Below, you will find the best ones available on the market.
Which 0.38 pen has the best quality?
You should be picky when selecting a pen. You want it to actually serve its purpose. Otherwise, your money is wasted.
Here are the 0.38 pens with the best quality. It is highly recommended that you pick one from these.
Uni Jetstream Slim Multi-Color – is a multi-color pen, so it is the best for people who like color coding their notes. The best thing about it is it is slimmer than most multi-color pens. So, it is easier and more comfortable to use.
Uni-ball Signo Needle Gel Ink Pen – is one of the community favorites. It writes fine and sharp lines with rich and saturated colors. It is one of the best pens to get if you write in tiny letters.
Pilot Juice Gel Pen 0.38 mm – writes neat, crisp, and fine lines. Available in different colors, but there are refills for black, blue, and red colors only. It has a large clip that will let you attach it to notebooks and pockets easily.
Fengtaiyuan AD038P18 Retractable Gel Pen 0.38 mm – contains vivid, reliable ink that dries fast without leaving any smears or globs.
What is the smoothest 0.38mm pen to write with?
A great fine tip pen would not simply write fine lines. It will also give a smooth writing experience, further improving the penmanship of its user. Here are the most known pens that provide this experience:
Uni-ball Jetstream Extra Fine and Micro Point Click Retractable Roller Ball Pens – like most roller pens, it is known for the dark lines it creates and the smooth writing experience it provides. Most avoid roller balls because they smear. But this pen has quick-drying ink, so it does not have the same issue.
Pilot G2 Premium – is high-quality like most Pilot pens. It offers a smooth writing experience and writes with bold and clear ink.
Sharpie S-Gel, Gel Pens, Ultra Fine Point (0.38mm) – has an aesthetic all-black design. More importantly, it writes smoothly and fluently, without smearing or smudging on paper.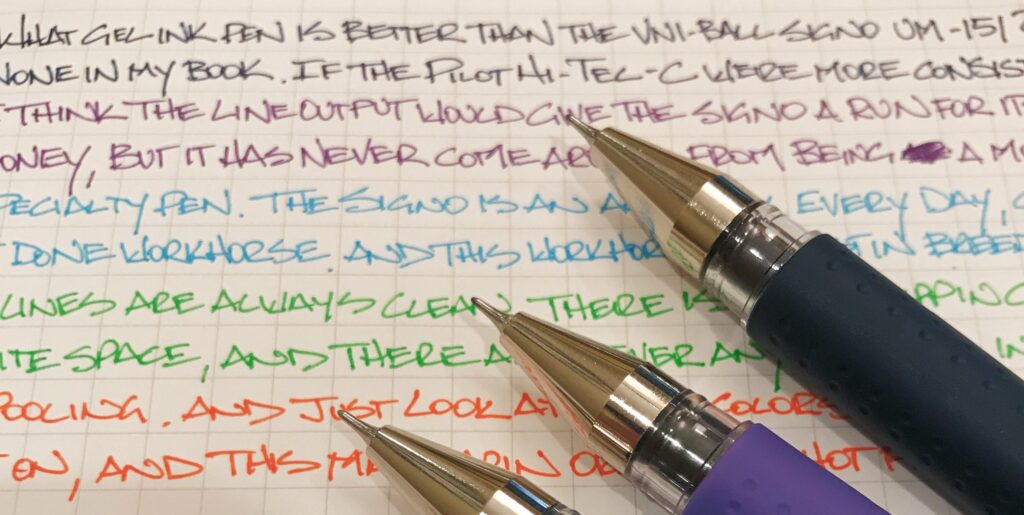 What is the highest rated 0.38mm pen?
Looking at other people's opinions about a pen will also let you make informed decisions. Here are the best 0.38 pens according to the people of the world:
Pilot Juice Retractable Premium Gel Ink Roller Ball Pens – It is no surprise that one of the best 0.38mm pens is also one of the highest-rated. Since the experts and the people agreed, you can rest assured that this pen is high-quality and worth your money.
MUJI – 0.38mm Black Smooth Gel Ink Ballpoint Cap Pen – is loved by the community, not for its writing quality. But, it is the best for drawing and doodling.
Uni-ball Signo RT1 Gel Ink Pen – is so good that some websites write lots of pros but no cons for this pen. It is easy and comfortable to use, and it writes vivid lines.
Which is the top 0.38 pen in the world?
All the pens listed above are some of the best. So, logically speaking, the world's top 0.38 pens will come from them.
Uni-ball Signo Needle Gel Ink Pen – writes clear, fine, and dark lines. It also has a rubber grip that makes it comfortable to use. Uni-ball has really set itself apart from other brands with this pen.
Pilot Juice Gel Pen 0.38 mm – has been mentioned in this article twice already, so it is not a surprise that it is among the best of the best.
Uni-ball Signo RT1 Gel Ink Pen – you might have seen this coming. Again, they write no cons for this pen. That proves how great it is.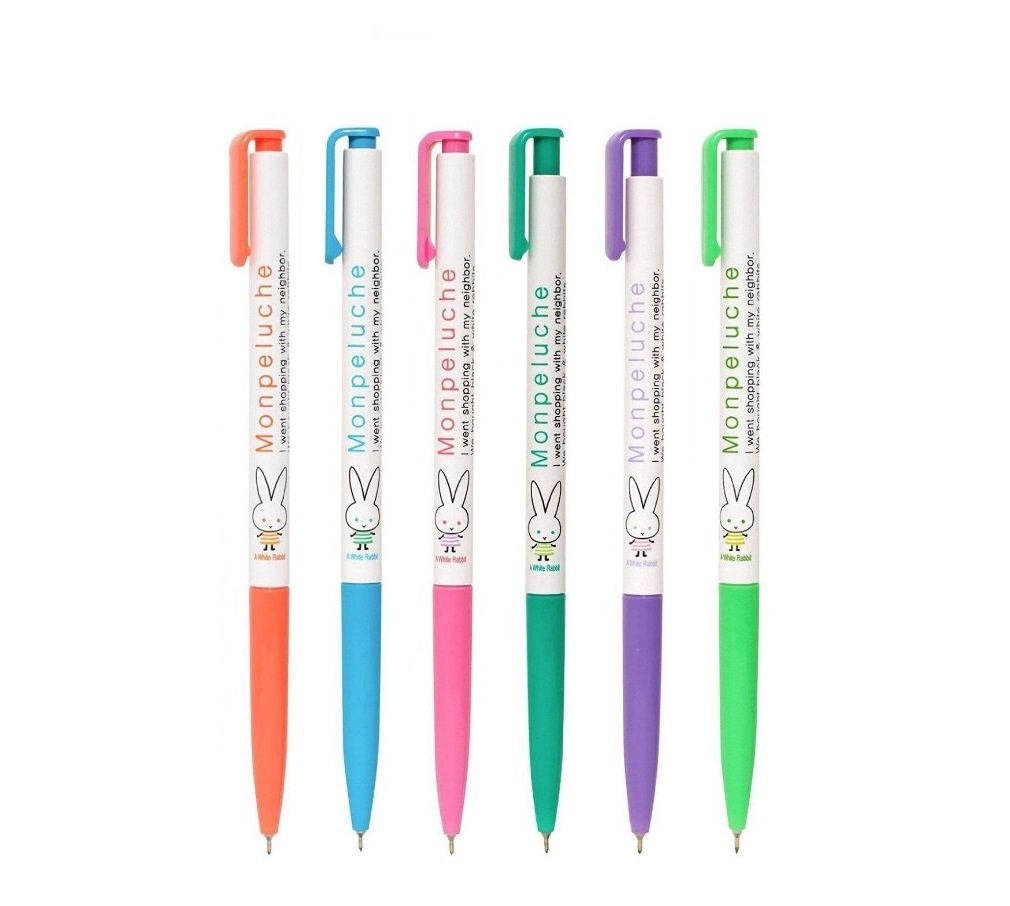 What is the best gel pen with 0.38 mm ballpoint?
Perhaps you are looking for something more specific. Here are your best options if you are looking for 0.38 mm ballpoint pens.
Pilot Dr. Grip Center of Gravity – has a fine tip but does not have a slim design. Thus, it is best if you have arthritis or experience hand fatigue while writing. This pen received a thumbs up from a physical therapist.
MUJI – 0.38mm Black Smooth Gel Ink Ballpoint Cap Pen – is the best 0.38 pen for office stationery. It also has a competitive price, so it really is a great buy.
Xeno 0.38mm Slim Ballpoint Pen Shinzi Monpeluche – has a superior ink formula that dries quickly, writes smoothly, and lasts long.