The Dinieper Tropic 1200 is quite rare as far as sloops its size go. This isn't unusual. Steel boats are built in exceedingly small numbers as many owners of small to midsize boats favor fiberglass hulls.
The Dieneiper Tropic 1200 is a steel-hulled single-masted sloop designed by famed French naval architects Michel Joubert and Bernard Nivelt. It was built by the Dienieper boat yard in Brazil in the early 1990s.
How large is the Dinieper Tropic 1200?
The length ranges from 40 to 44 feet. The beam is 13 feet and the draft is around three feet. It has two cabins and can comfortably sleep six. It comes with an ample water tank that holds 400 liters(105 gallons) of water. The Dienieper Tropic 1200 also has lots of cleverly concealed storage drawers under couches and beds for all your other odds and ends.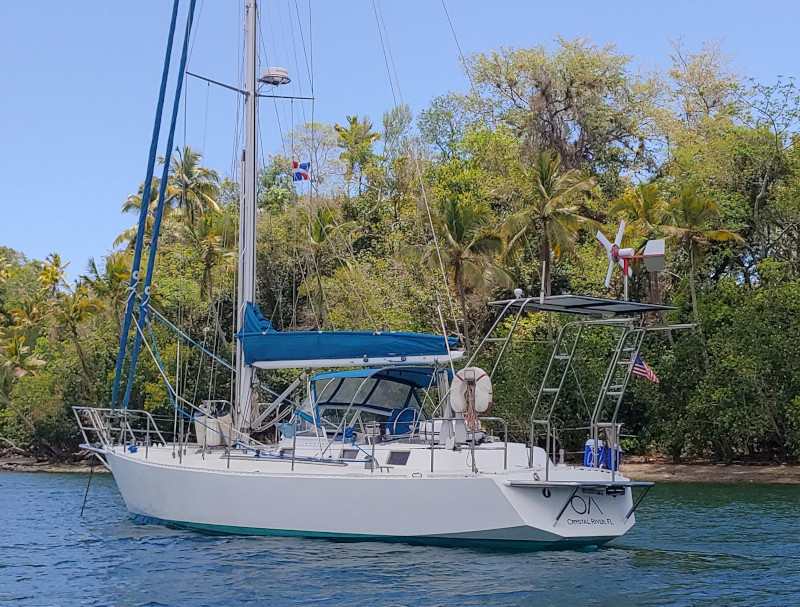 Is the Dinieper Tropic 1200 a bluewater boat?
Yes. Its size and sturdy steel hull construction makes it suitable for fairly long sea voyages. Columbus crossed the Atlantic with a wooden ship that was as short as 50 feet 500 years ago. There's no reason you can't do it with a 44-foot modern boat.
The Dinieper Tropic 1200 is sturdy enough to withstand choppy waters and has sufficient space for food, water, and a companion or two for the really long voyages. With a full fuel tank, you could almost make a non-stop crossing of the Atlantic without making any modifications to the boat but we'd suggest carrying extra fuel because that would be cutting it too close.
You could try doing it with just sails but you will have to take cut your crew down to just two people (including yourself). Otherwise, you may not be able to carry sufficient provisions for a nonstop trip. You could do the crossing alone fairly comfortably (as comfortable as the high seas can be) if you don't mind four weeks of solitary confinement on the waves. A motor-sails combo is the best, however. It's also best to modify the boat before embarking on any long voyages.
Technical specifications of the Dinieper Tropic 1200
The Dinieper Tropic 1200 comes with a single fore-mounted mast for the sails. The sails are supplemented by a powerful 4-cylinder inboard diesel motor. The fuel tank can hold 635 liters (168 gallons) of diesel.
How much does the Dinieper Tropic 1200 cost?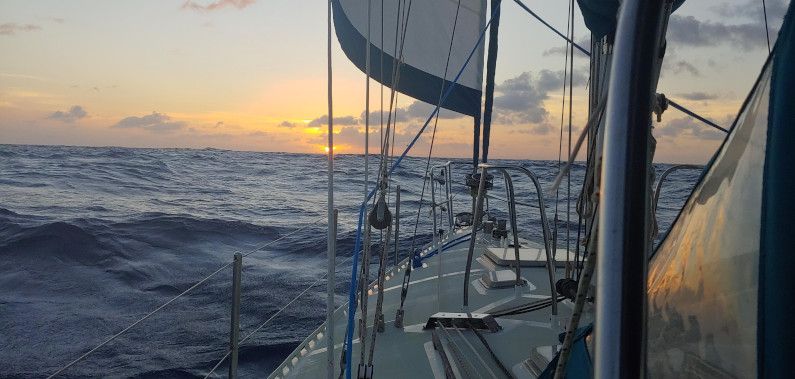 Pricing data on the Dinieper Tropic 1200 is hard to come by because the boat is so rare. In 2019, a Brazilian Youtuber couple, Duca and Roberta, bought a 44-foot steel monohull Dinieper Tropic 1200 built in 1991 for $50,000. They spent an additional $50,000 refitting the boat which had been abandoned for over 20 years. This brought the total cost of turning the boat seaworthy to $100,000.
While no Diniepers are listed on Yachtworld, prices for 40-50 foot steel monohull sailing yachts built in the early '90s are all over the place, ranging from $26,000 to $300,000+. But nearly all of the cheaper sailboats have serious problems with rust and need extensive overhauls or command high sales and transfer taxes. The sweet spot for operational boats that won't require any extensive welding and refitting is $80,000 to $130,000.
Nevertheless, get a survey before making any purchase. And don't just rely on the seller's surveyor. He's bound to favor the man who pays him more often than not. Get your own. A grand or two for a proper professional assessment of a boat's value can save you thousands of dollars in repair costs and headaches down the line.
There are also maintenance costs. The biggest is fuel. The onboard Yanmar 4JH5E is rated for 3,000 rpm. At moderate speeds (2100-2400 rpm), fuel consumption should be around 3.4 liters per hour (0.9 gallons per hour). Consumption rises with engine power. At 2800 rpm, fuel consumption approached 5 liters per hour (1.3 gallons per hour).
On top of that, you can tack on regular interior maintenance, cleaning, rope and sail replacement, insurance, plus a paint job every 20 years or so. Other costs like taxes, registration, docking, and marina fees will vary largely depending on where you stay and go.
How reliable is the Dinieper Tropic 1200?
The boat's construction is as incredibly sturdy as steel hulls tend to be. Duca and Roberta's boat had very little hull rust despite being 28 years old when they purchased it. With such a solid base, reliability shouldn't be an issue as you can customize everything else. As long as the hull is properly maintained, it should last you a lifetime.
You should expect the engine to last 8,000 hours or so. You could push it to 10,000 hours with gentle use but 8,000 is a good benchmark. There's little need for excessive optimism.
Should you buy the Dinieper Tropic 1200?
This depends on a few factors. If you want a unique hardy boat for most of your sailing needs, then this is the boat for you. If you need low maintenance costs and continual manufacturer support, you will be better off with a more mass-produced fiberglass-hulled model.