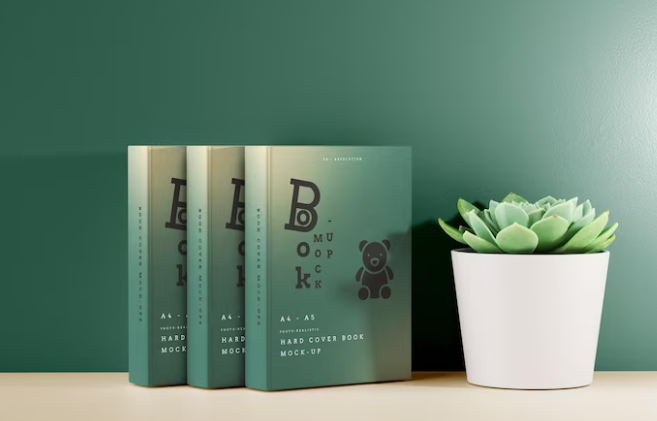 Source: FreePik.Com
A fantastic book cover not only makes your book look more professional but is also an essential tool in your marketing arsenal. It can make all the difference in getting your book noticed and making sales.
The cover is the first thing a potential reader will see, so it is important to make sure that it is eye-catching and represents your book in the best possible light. Also, people are more likely to buy a book if they like the cover at first sight.
A professional-looking cover that reflects the genre of your book will provide you with several benefits, some of which are listed below.
1. Grabs Readers' Attention
The first impression of your book really matters, and a great book cover is what will attract users to pick up your book from the shelf. And once they've picked it up, there's likely a chance they will take a look inside and read what you have to say. This will ultimately affect the sales of your book in a positive way.
However, there are some things you'll need to consider when designing your book cover. First, you must ensure the cover reflects your book's content, and second, it is memorable, so it will stick with the reader long after they have finished the book.
2. Shows Your Credibility as an Author
Your readers will only buy your book if you have built enough credibility as an author. When you publish your book with the assistance of a publishing house, they will handle all the details of your book cover design. Books from reputed publication houses are more likely to catch readers' attention.
However, if you have self-published your book, it will be somewhat hard to grab the readers' attention. The only thing that will show your credibility is the book cover. So, try to make it as appealing and professional as possible. It will generate more sales and help you make your book a great success.
3. Gives Visual Reminders to Readers
Most readers put their books on the table or shelf, and they lie there for the rest of the time unless your book has an interactive cover design. An appealing book cover will attract your readers and give them visual reminders that it's time to take the book off the shelf and read it finally.
This increases the chances of people reading your book and recommending it to other people in their family or friends' circle. If you are unsure how to design a great cover for your book, don't worry. There are plenty of resources out there to help you design.
You can either hire a book cover designer, use a template, or can independently design the cover from scratch. However, we recommend you use the services of a professional book cover designer. They have the required experience in designing and will help give your book a new shape that is likely to be read by everyone out there.
4. Helps Build a Brand
Just like other businesses, authors also need a brand to represent themselves in the market. Designing a fantastic book cover for your first book will help you build a brand as an author. However, there are a few things you should keep in mind to make this approach more efficient.
First, you want to ensure the cover accurately represents the content of your book. And second, you want to make sure the cover fits with the overall branding of yourself as an author. Every author has a theme or signature style that represents what they write.
If you also want to present yourself as a brand, it's best to tell people what you're all about. It will be a great way to communicate who you are and what you stand for.
5. Helps You Stay Ahead of the Competition
In a world where bookstores are few and far between and most people buy their books online, your cover is often the first and only chance you have to make a good impression on potential readers. A beautiful and well-designed cover can help you stand out from the rest of the competition.
There are some simple things you can do to make your book's cover elegant and professional. By paying attention to design, using high-quality images, and avoiding common mistakes, you can create a cover that will help you sell more books and achieve maximum support from readers.
In short, if you want to give your book the possible chance of success, make sure you invest in a great cover design.
6. Keeps the Binding Together
When we are talking about the book cover, we are not only focusing on the design aspect but also the durability. Your book will go through several racks and shelves to be on your reader's table, and if the cover is not strong enough, it will be torn out before it reaches the target readers.
That's why you'll have to invest in a quality book cover that is both elegantly designed and keeps the edges of the book intact. It will tell your readers how much you care about their experience, which is an essential aspect in generating more sales and making your book a hit.
7. Gives Proper Information About Your Book
The job of a book cover is more than just displaying the title of your book and its author's name. It also gives information about what a reader should expect from the book. So, whether you have written a children's book, fiction or nonfiction, it's important to pay special attention to the book cover and provide some information that could encourage readers to make the purchase.
It is noticed that some of the best book covers have some piece of information that attracts readers to take action and buy your book.
8. Makes Your Book Get Accepted for Publishing
A good book cover will not only affect readers but will also help your book meet the standards of the publication house. It has been seen that books with great covers are hardly rejected, so there's a high possibility that your book gets noticed by publishers, and they'll be likely to publish. All you have to do is pick a cover design that reflects the genre of your book. For example, a romance novel can't have the same cover as a self-help book.