Is Alibaba Legit?
Perhaps the most frequently asked question about Alibaba is, 'Is Alibaba legit?' Indeed, Alibaba is genuine and trustworthy. When you explore the Alibaba website, you'll come across an extensive roster of suppliers featured there. It's understandable if this abundance raises some skepticism. However, Alibaba has instituted its own verification procedure. While anyone can enlist and establish a supplier profile, it's imperative that they successfully navigate through this verification process.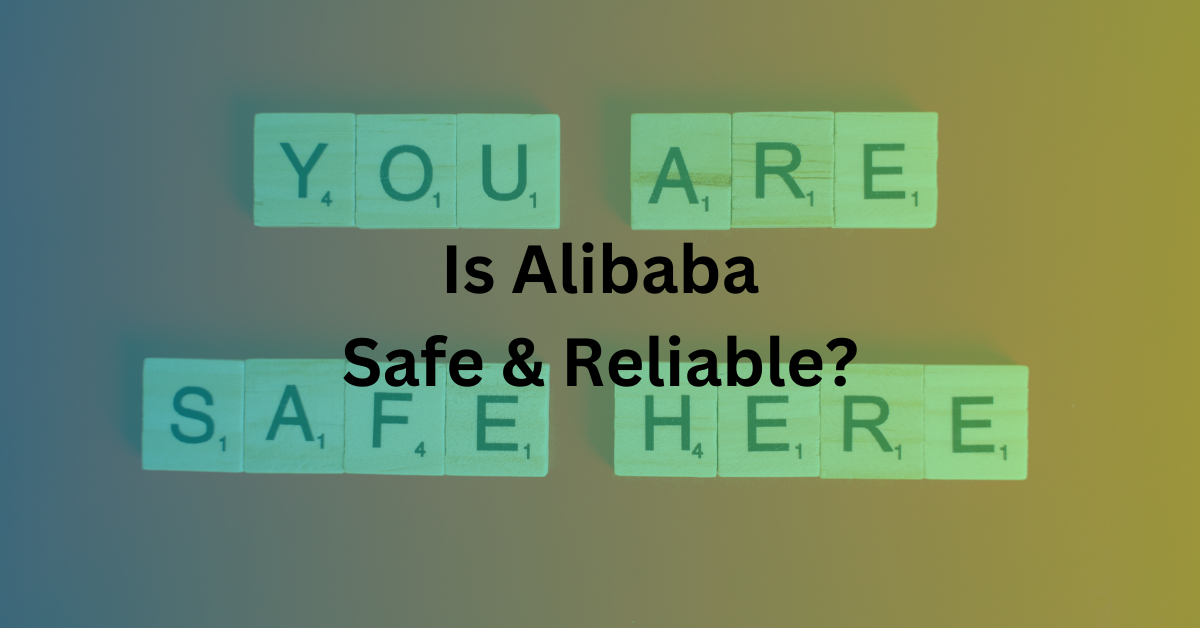 For added security, Alibaba's Trade Assurance program is designed to shield you from potential scams. Additionally, if the received product doesn't align with your expectations, there exists an avenue to voice your concerns.
Nonetheless, it's essential to take a thorough approach. Make sure to delve into the seller's profile, examine the product's specifications, and peruse previous customer reviews. This meticulous evaluation guarantees a more informed and secure transaction.
The Alibaba Dropshipping Appeal
You're familiar with Dropshipping, a business model that enables entrepreneurs to sell products without maintaining inventory, and it has gained considerable popularity. Here are some reasons why Alibaba is a preferred platform for dropshipping enthusiasts, highlighting its broad appeal.
Wide Variety of Products
You can kickstart your dropshipping business with any type of product, and there's no shortage of product types on Alibaba. Whether you're interested in selling electronics, clothing, home goods, or specialized items, Alibaba's extensive network of suppliers ensures a diverse range of products to align with your target market.
Competitive Pricing
To maintain a healthy profit margin in your dropshipping business, it's important to acquire products at a low cost. Thanks to Alibaba's direct connections with manufacturers and wholesalers, intermediaries are eliminated, resulting in reduced costs. Additionally, if you make larger product purchases, you can avail discounts. Thus, you can buy products here at a lower expense.
Profit Potential
The potential for profit within Alibaba's dropshipping model is a major attraction for entrepreneurs. By leveraging the platform's extensive supplier network and competitive pricing, dropshippers can establish a lucrative stream of revenue. The ability to source products at lower costs and sell them at a markup empowers entrepreneurs to capture a portion of the value chain without the challenges of managing inventory and shipping logistics.
The Shadow of Suspicion
In the online community, I often come across passionate debates about the legitimacy of Alibaba. Many of the concerns that seem to be causing worry have been thoroughly discussed here as users desperately want to know, is Alibaba legit?.
1. Scams and Frauds
A common fear is falling victim to scams or fraudulent activities. Stories of people paying for products but not receiving anything in return have raised doubts about the safety of transactions on Alibaba.
2. Counterfeit Products
Another significant concern revolves around counterfeit items. Since Alibaba hosts a wide range of suppliers, ensuring the authenticity of all products can be a challenge.
3. Negative Customer Experiences
There are tales of customers getting lower-quality or completely different products from what was advertised. This has led to doubts about the platform's quality control and user protection mechanisms.
Instances of Unfortunate Events
While Alibaba's large user base showcases its popularity, there have been cases that have amplified doubts about its legitimacy:
1. Fake Suppliers
There are reports of fraudulent suppliers on Alibaba's platform. These "fake" suppliers attract buyers with tempting deals but disappear after receiving payments. If you come across an incredibly enticing offer online, it's best to steer clear.
2. Quality Disappointments
Some buyers have taken chances on seemingly high-quality products, only to receive poorly made imitations that hardly resemble the advertised items.
3. Shipping Challenges
Delays in shipping and inadequate customer support in resolving such problems have left buyers feeling stranded and disappointed.
Impact of the Internet
It might surprise you, but information now spreads faster than ever before. Negative experiences and horror stories can quickly become viral, overshadowing the many positive interactions on the platform.
Spread of Misinformation
The reality is that a single negative experience can spread extensively on social media and online forums, leading others to be cautious about Alibaba without fully understanding the broader picture.
Sorting Fact from Fiction
After reading the earlier part of this blog post, you probably have various thoughts running through your mind. Consider this: if Alibaba was truly an inferior business platform, it wouldn't have managed to stay successful in the industry since 1999. However, it's essential for you to conduct thorough research before making any purchases here, just as you would when buying any other item online.
Safety & Trust Signals
In this section, I'm going to delve into how Alibaba is actively addressing doubts and cultivating trust within its extensive online marketplace.
Balancing Doubt and Confidence
Navigating the world of e-commerce, especially one as vast as Alibaba, often involves sifting through a mix of valid concerns and exaggerations. While instances of scams and counterfeit products do exist, it's important to remember that they don't define the entirety of Alibaba's ecosystem.
Alibaba's Measures
Recognizing the significance of user trust, Alibaba has implemented a variety of measures to tackle concerns about legitimacy:
1. Verified Supplier Badges
To instill confidence, Alibaba has introduced verified supplier badges. These badges indicate that the supplier's business has been verified by Alibaba, making it easier to identify reliable partners.
2. Buyer Protection Policies
Alibaba offers buyer protection through its Trade Assurance program. This program provides financial security to buyers, assuring them of refunds or replacements if products are not as described or fail to arrive.
3. Escrow Payment System
Alibaba employs an escrow payment system, where payments are held in an escrow account until buyers confirm receipt and satisfaction with the product. This mechanism prevents suppliers from receiving funds until their obligations are met.
The Role of Buyer-Seller Interactions
The authenticity of Alibaba hinges on the relationship between buyers and sellers. This interaction is fundamental to the platform, enabling both sides to engage in transparent negotiations and build mutual understanding. Alibaba facilitates this connection, offering tools and features for effective communication and decision-making:
1. Detailed Product Information
Suppliers on Alibaba provide comprehensive product details, specifications, and images, empowering buyers to make well-informed decisions.
2. Communication Channels
Alibaba's messaging systems allow buyers to directly communicate with suppliers, clarifying questions, negotiating terms, and building rapport before finalizing transactions.
3. Reviews and Ratings
The platform includes a review and rating system where buyers can share their experiences. These reviews contribute to a community-driven sense of trust and accountability.
Alibaba's Dedication to Progress
Alibaba acknowledges that maintaining trust is an ongoing endeavor. The company consistently refines its policies, strengthens verification processes, and invests in technology to combat fraudulent activities. Their commitment to ensuring a secure and reliable marketplace reflects their determination to earn and sustain the trust of millions of users.
Navigating the Alibaba Experience
Now I'll share some guidelines with you. If you adhere to them diligently, your Alibaba experience should remain positive.
1. Conducting Thorough Research
Supplier Investigation
Naturally, you should thoroughly research potential suppliers. Examine their profile, business history, and product offerings. Look for verified supplier badges and their years in operation as signs of reliability.
Review Examination
Naturally, you'll delve into reviews and ratings left by other buyers who have dealt with the supplier. Real-world experiences offer valuable insights into product quality, shipping times, and the overall dependability of the supplier.
Sampling Strategy
Consider requesting product samples before making bulk orders. This enables you to assess the product's quality and confirm if it meets your expectations.
2. Effective Communication
Clear communication serves as the link between buyers and sellers. Employ these tactics:
Ask Queries
Engage in dialogue with suppliers. Seek information about product specifications, shipping methods, and any other queries you may have. Reputable suppliers are often eager to address your concerns.
Verify Contact Details
Confirm the supplier's contact information. Legitimate suppliers provide reliable means of communication, promoting transparency.
Transparent Negotiations: When discussing terms, ensure that all agreements and conditions are clear. Misunderstandings can lead to disappointments later on.
3. Realistic Expectations and Caution
Managing expectations and exercising caution are crucial for a positive experience:
Set Realistic Expectations
Be wary of deals that appear too good to be true. If a price seems significantly lower than the market value, there's a chance it might involve a scam or a subpar product.
Escrow Payment
Choose Alibaba's escrow payment system, which safeguards your funds until you confirm receipt and satisfaction. Avoid making direct payments outside the platform.
Start Small
Especially if you're new to Alibaba, consider beginning with smaller orders to establish trust and rapport with suppliers before engaging in larger transactions.
4. Document Everything
Maintain records of all communications, agreements, and transaction particulars. This documentation can serve as evidence in case of disputes or discrepancies.
5. Trust Your Instincts
Intuition also plays a role in online transactions. If something feels amiss or appears too good to be true, take a step back and reassess the situation before proceeding.
Verdict on "Is Alibaba Legit?"
So, is Alibaba legit? In this blog post, I've aimed to present Alibaba as a reliable source for dropshipping suppliers (yes!). I've outlined all the necessary checks to identify the ideal supplier. While the journey might present challenges, a well-prepared and watchful approach can result in a prosperous and rewarding dropshipping venture on Alibaba.
If you have any inquiries about finding a reputable dropshipping supplier, please don't hesitate to leave a comment. I'll be more than happy to provide answers.