MerCruiser drive is one of the best inboard and outboard brands that power your craft. They offer prestige, unquestioned technology, performance, and propulsion for over 40 years. However, even a most sturdy stern drive needs proper monitoring and maintenance. Proper care and maintenance are paramount in the performance of your marine vehicle. MerCruiser drive lube is used to sustain and maximize the function and life expectancy of your drives. It is the remedy for lubrication-related failures in marine drives and lower units. Without proper lubrication, it will tend to overheat easily and seize quickly. Also, it reduces friction, thus, cooling the machine down and increases in performance. It is recommended to all Mercruisers drives to use SAE 20W-40 MerCruiser full synthetic engine oil.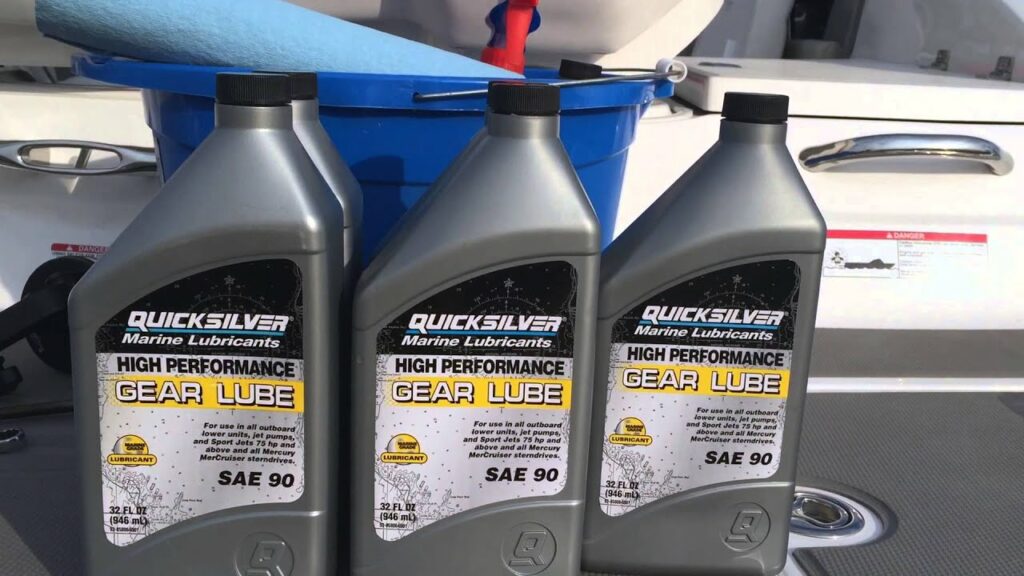 What is Mercruiser Drive Lube?
Mercruiser Drive Lubes reduce friction when the drive is operating. It usually includes extra-strength organic detergents and friction reducers to avoid overheating and aid in the machine cooling down. Without proper lubrication, there will be many problems on your drives in the future, so to avoid these failures, it is crucial to have good drive lubrication that has a grade designation of API GL5 SAE 80 or 90 weight. Mercury MerCruiser Full-Synthetic Engine Oil 20W-40 is the most recommended drive lube for Mercruiser Drives. Learn more at https://www.mercurymarine.com/en/ca/landing/oils-and-lubricants/.
Drive lube vs. gear lube
Although drive lube and gear lube have the same function-lubrication-they are not the same. They have different viscosity and weights, so it is best to check your user manual when refilling. Never mix them because filling the drive with an incorrect lube, can damage your craft. Keep in mind that appropriate oil is critical for protecting the heavily loaded gears in your lower unit and preventing expensive damage.
Is Mercruiser Drive Lube Synthetic?
Mercruiser drive lube or quicksilver, specifically, the SAE 20W-40 MerCruiser full synthetic engine oil. It is a high-performance synthetic oil recommended by many boaters to maintain your craft. This synthetic lube is engineered to provide maximum protection for sterndrive and outboard lower unit gear cases. It is formulated to protect against corrosion and excessive wear and tear. It is highly recommended for drives applications above 75 Horsepower. It protects gears from any metal contact that may damage your craft.
How much gear lube does a MerCruiser outdrive hold?
The amount of lubricant a MerCruiser outdrive holds depends on its model.
Alpha One Gen II MerCruiser- can hold up to 1.6 liters to 1.90 liters of lube, depending on if it has a lube monitor.
MerCruiser Bravo One– can hold up to 1.9 liters to 3.7 liters Quarts of lube
MerCruiser Bravo Two– can hold up to 2.4 liters to 3.55 liters of lube
MerCruiser Bravo Three– can hold from 1.66 liters to 2.84 liters
The number of lubes also depends on the cyle model such as 2 cycles, 4 strokes, or 4 cycles. Whatever the capacity of a specific gear, changing and servicing of gear lube should always be performed per techniques and procedures outlined in the appropriate service or owner manuals.
What kind of oil goes in a MerCruiser lower unit?
MerCruiser lower unit can use any brand of lube, but it should have a grade designation of API GL5 SAE 80 or 90 weight. You can use Mercury Premium SAE 80W90 Gear Lube. It is the most recommended lube by many boaters and boat mechanics alike. You can also use Mercury High-Performance Gear Lube SAE 90, Mercury Racing Extreme Performance Gear Lube SAE 85W90, and Mercury-Mercruiser 91-8M0101435 Pump & SAE 90 HI Performance Gear Lube. Some use other brands like Mobil1, and some use Amsoil synthetic (marine) gear oil. It is best to consult your engine's manual and look for the proper marine gear lube for your application.
How often should I change my Mercruiser Drive Lube?
Regular change oil is necessary to maintain your craft. It is best to change Mercruiser sterndrive and outboard lubes every 100 hours or once a year, whichever comes first. It is crucial to maintain clean oil running through your drives to prolong its life expectancy and prevent any serious and costly damage. Routinely check your sterndrive and outboards, as well to check if there are any leaks or any damage that can cause your lubes to run out.
Marine Lube vs. Automotive Lube
Marine Mercruiser Lube is way different than automotive lube. Their viscosity, weight, and chemical composition are different. Marine gear lube like Marine Mercruiser Lubes is formulated to emulsify in the water and has high anti-corrosive additives. Marine Mercruiser Lube can outperform the harshest saltwater environment, while automotive oils cannot withstand the corrosive environment of the sea. In this case, never attempt to use automotive lubes to your marine craft to avoid issues with your machine in the future. Always use the specified lubes in the user manuals.