Streamlabs OBS is an open source software designed for live streaming and recording video content offline. Several versions of Streamlabs OBS exist, and in some cases, the software may not open on some PCs.
Streamlabs OBS may not open in PCs with outdated drivers, incomplete visual C++ installation, outdated OS, or software glitches. Different fixes can be applied to each issue to make Streamlabs OBS run on supported PCs.
The current version of Streamlabs OBS won't open on Windows 8 operating systems and below. Updates might also be required to run Streamlabs OBS on macOS and Linux operating systems.
In this article, you'll find relevant details to help you run Streamlabs OBS on your computer with ease.
How to Fix Streamlabs OBS Not Opening
First way to fix Streamlabs OBS not opening: Installing Recommended Visual C++
Step 1: Visit Microsoft Visual C++ Redistributable 2017
Visit aka.ms/vs/17/release/vc_redist.x86.exe (for 64-bit Windows OS) or https://aka.ms/vs/17/release/vc_redist.x64.exe (for 32-bit Windows OS).
Step 2: Download files
Download both files (32-bit and 64-bit) and install them on your computer. Reboot your computer after installation. If you already have these files installed on your computer, choose Repair from the list of options available.
Step 3: Launch Streamlabs
Next, launch Streamlabs and check if all features are running smoothly.
Second way to fix Streamlabs OBS not opening: Update OS (Windows)
Step 1: Launch Windows Run
Press 'Windows + R' to launch the Run app on Windows. Type ms-settings:windowsupdate and tap Enter to access the Windows Update menu.
Step 2: Click Check for updates
Next, click on 'Check for updates' and install all updates available for your current OS. Restart your computer after the installations are complete and check if your Streamlabs runs smoothly.
How Do I Fix Streamlabs Failed to Open Streaming Server?
You can fix a failing Streamlabs session by opening it with a stronger internet connection. Also, try opening Streamlabs on a different device.
Streamers can also fix Streamlabs by resetting their router to default or by allowing OBS through your computer's firewall. You can also fix failed streaming servers on Streamlabs by updating OBS, your PC's OS, or creating new stream keys.
How to Solve "Your Version of Streamlabs OBS is Not Supported"
First way to solve your version of Streamlabs OBS is not supported: Installing the latest Streamlabs
Step 1: Visit streamlabs.com
Streamlabs official website (streamlabs.com) is the best location to get download links of this open-source software. You can also choose to visit the download page of Streamlabs directly.

Step 2: Go to download page
Visit streamlabs.com/slobs/download to get your PC's latest version of Streamlabs OBS.
Step 3: Download and install latest version
Get to the download page and install Streamlabs OBS. The latest version of Streamlabs suitable for your device is displayed as the default download link.
Install the latest version of Streamlabs on your PC, restart it, and run it afterwards.
Second way to solve your version of Streamlabs OBS is not supported: Updating your operating system
If you use a Windows OS, Streamlabs will function better on versions 8.1, 10, and 11. Update your Windows OS to the highest version before installing the newest Streamlabs onto your PC.
Also, 32-bit Windows may not run Streamlabs OBS, especially its later versions. Update your PC's OS to a 64-bit version before running Streamlabs on it.
How to Troubleshoot Streamlabs Not Opening on Windows
Step 1: Open Streamlabs
Visit Streamlabs through streamlabs.com

Step 2: Go to Settings
Follow the path: Streamlabs > Settings > Notifications >
Step 3: Tick "Enable reporting additional crash information"
Ticking the box to enable added crash information reporting to Streamlabs will restart your PC. After a restart, any failures to open Streamlabs on your PC will be recorded and sent for possible fixes.
How to Get Streamlabs to Open OBS
Step 1: Download Streamlabs OBS
Visit Streamlabs website and search for the download link or get your version of Streamlabs here.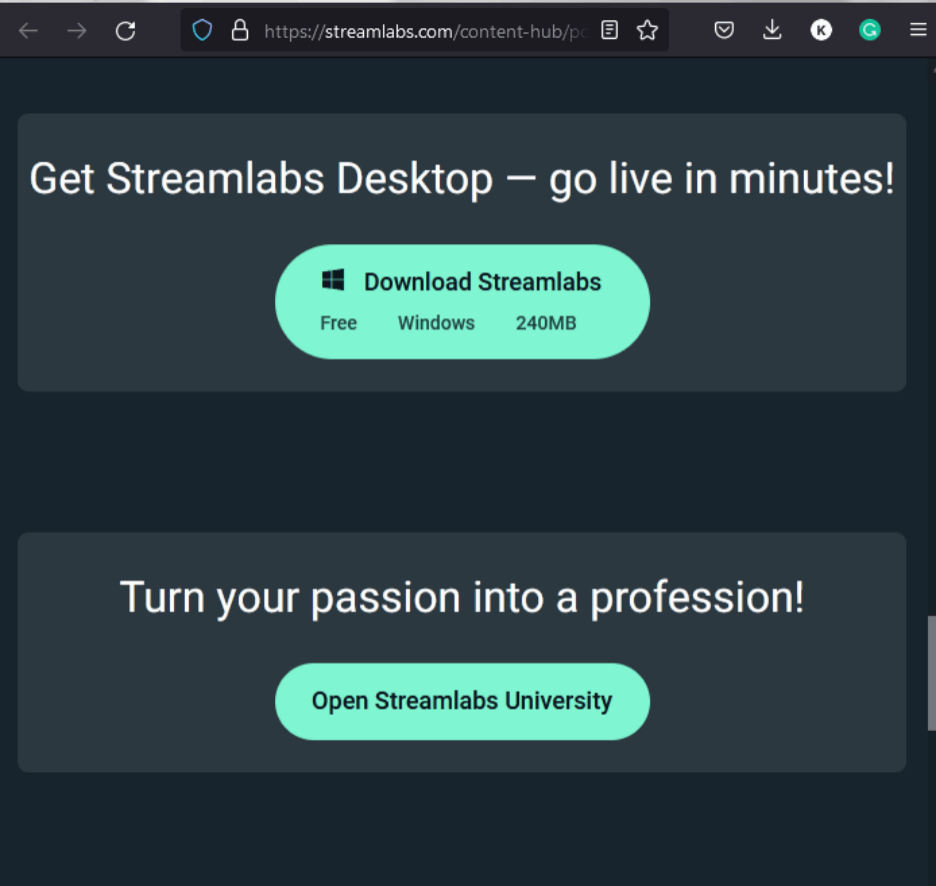 Next, install the latest version of Streamlabs on your PC.
Step 2: Connect existing streaming accounts
At first-time setup, you'll be requested to connect your existing stream accounts to Streamlabs. Common options available to connect to Streamlabs OBS are Twitch, YouTube, and Facebook.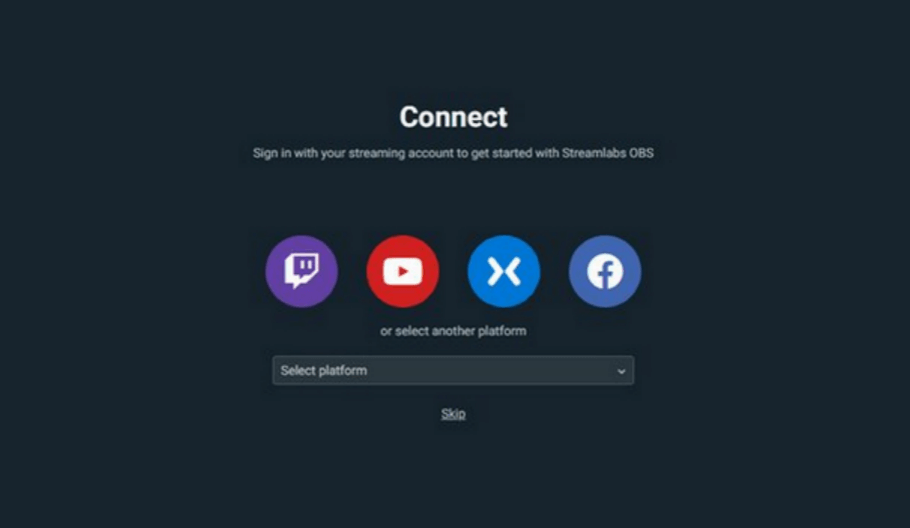 Step 3: Import OBS profile onto Streamlabs
Streamlabs has an Import feature designed to help OBS Studio users move their profiles, scene settings, and more to OBS.
Choose Import from OBS when at the Welcome to Streamlabs OBS page to import all your OBS Studio settings.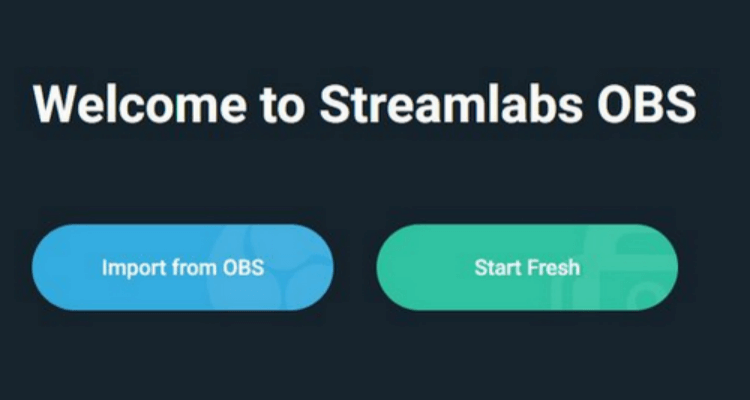 Next, click Start to import all your existing OBS settings to Streamlabs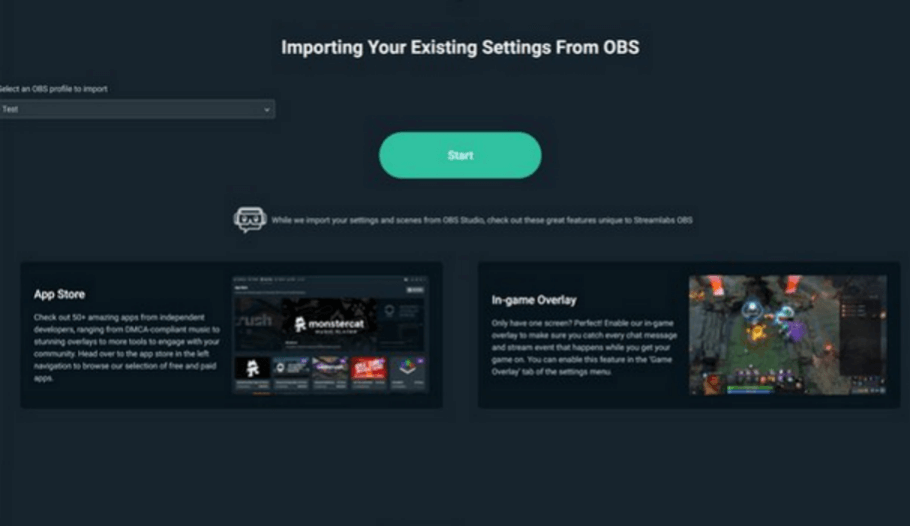 Step 4: Detect input/output devices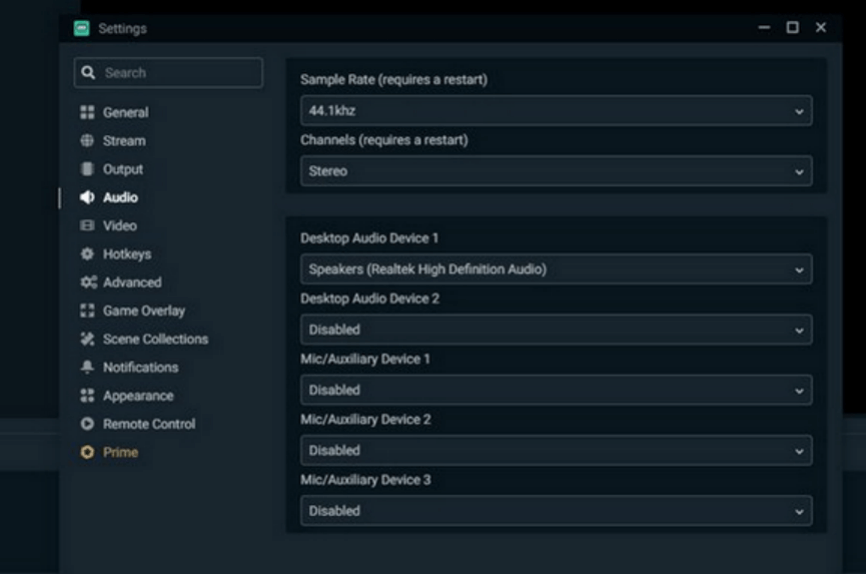 Step 5: Add sources
Follow the path: Streamlabs > Sources > Add or '+' to include preferred sources to your Streamlabs.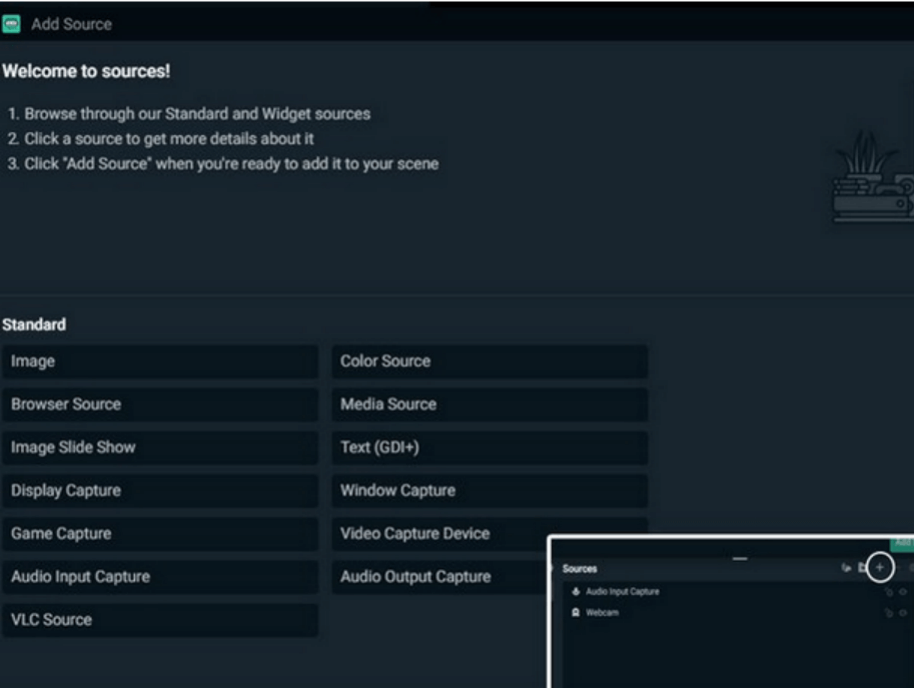 More than a dozen source options are available on Streamlabs including VLC, color source, and text capture.
Step 6: Add peripheral settings
Other settings like stream labels (text overlays), widgets, themes are available on Streamlabs for more customization.