There are plenty of options when it comes to selling online. You could build your own e-commerce store and try driving traffic to it. You could set up shop on an established marketplace like Amazon or you could put an ad on Craigslist and pray that the callers are sane.
But selling online is pointless if nobody is buying. Which option gives you the best chance of success? What are the strengths and weaknesses of each model? Read on to learn about the best places to sell online.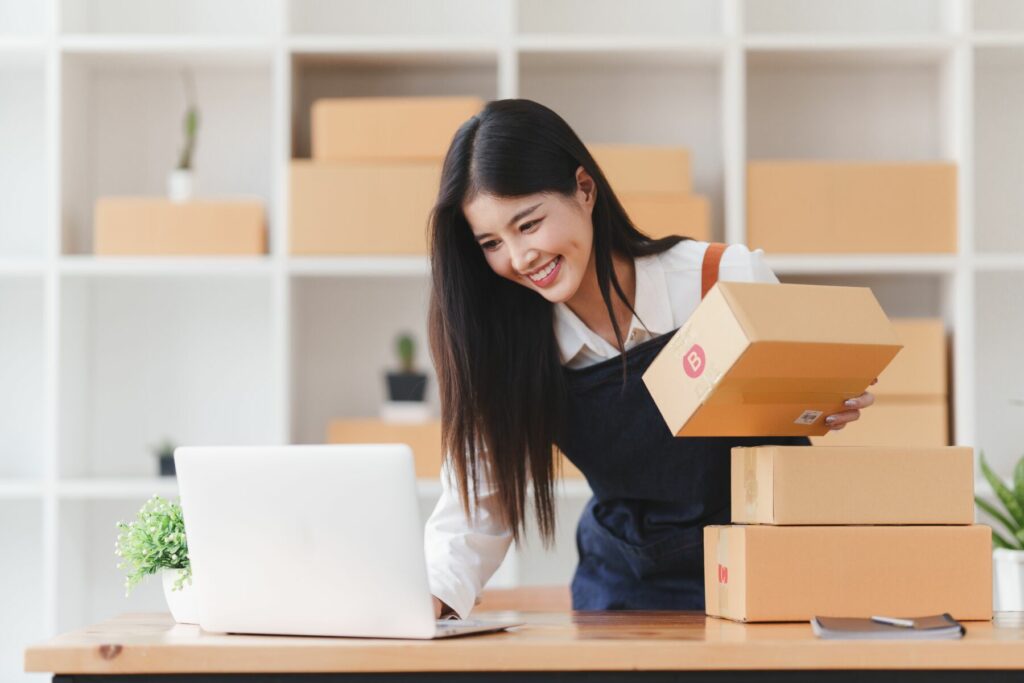 Three options for the best online selling sites
In this guide, we will examine three options of the best places to sell online.
Your own store
A global third-party marketplace like Amazon
A neighborhood marketplace like Craigslist
#1. Build your own eCommerce store with plug-and-play eCommerce engines
Building your own store provides you with the most flexibility. You can set your own rules and you won't need to worry about commissions. But since you're a starter brand, building up customer traffic and trust is going to take a bit of time. And a lot of advertising dollars.
Plenty of store-building software allows you to customize your store without the need for any coding experience. Most plug-and-play e-commerce engines also come with integration to platforms like Amazon and Facebook Marketplace, which greatly eases inventory management.
And just as you outsource coding and hosting to platform providers, you can outsource fulfillment to Amazon FBA and other third-party delivery companies. The only thing you'll need to handle in-house is customer service.
Shopify
Shopify's fees start at $32 a month for the basic plan (you can pay $24 if you choose the annual billing option). The costs are inclusive of hosting fees but you will have to pay for your domain separately.
The basic plan supports basic features. These are usually good enough for a starter store. If you grow to the point of needing more advanced features, you will have to pay for a pricier plan.
WooCommerce
WooCommerce is number two after Shopify. Being a free and open-source WordPress plugin has done wonders for its popularity.
But it's not free-free. While you may not pay WooCommerce, you'll still need to buy a domain name and pay hosting fees. Most hosting providers charge anything from $5 to $5,000. It all depends on the amount of traffic your site is receiving.
Squarespace
Squarespace's cheapest eCommerce option costs $23 a month but it comes with a 3% transaction fee. If you want to avoid that, you can fork over an additional $4 for the commerce plan which costs $27 a month with zero transaction fees.
Apart from the convoluted plans, Squarespace has plenty of the same features as Shopify. Except for third-party plugins. Squarespace only has 35 while Shopify has 8,000.
Wix
Wix has plenty of the same features as the others. Their e-commerce plans start at $25. It has many of the same integrations. The only downside is that it comes with 500 web apps and plugins. The Shopify app store, on the other hand, has 8,000.
#2. Use global third-party marketplaces
Instead of the hassle of building your own store, you can go to an established marketplace and set up shop there. The platform will have both the traffic and customer trust problems solved for you. A good third-party marketplace provides you with a combination of the following:
Plenty of customer traffic

Limited competition

No commission fees

Flexible rules
Sadly, no platform is going to give you all four. There will always be trade-offs. The best platforms, ranked by name recognition, are:
Amazon
Amazon has the biggest reach and the most customer traffic. But it also has the stiffest seller competition. You can pay 99 cents per sale on a personal plan or sign up for a professional seller subscription which costs $39.99 a month.
On top of these, Amazon charges third-party merchants a referral fee (lawyerspeak for a middleman tax) on each sale. This middleman tax ranges from 8% to 45%. The 45% rate is only charged on accessories to Amazon products such as the Kindle or Amazon Echo smart speakers (Alexa). The commission rates for products in other categories average around 15%.
eBay
You can sell anything on eBay. From clothing, household appliances, and trading cards to heavy machinery and even a pair of Queen Elizabeth's underwear.
eBay charges an insertion fee of 35 cents per item if you list more than 250 items. The platform also charges a 30-cent fee plus a varying percentage commission on each individual sale. This commission varies from 8% to 15%. eBay drops its commission for pricier items, taking 2.35%-3% on the portion of the sale price above $7,500.
Bonanza
Bonanza is a cross between eBay, Amazon, and Shopify. Bonanza distinguishes itself from Amazon and eBay with low fees and from Shopify with running a higher traffic platform and issuing loans to sellers.
Bonanza memberships start at $40 (you can pay $25 for annual billing). Non-members are charged a transaction fee of 25 cents plus a commission of 3.5%. These are much lower than Amazon or eBay's selling fees but Bonanza would be unable to compete otherwise.
The platform allows you cross-list products on Amazon, eBay, and Shopify You can also choose to advertise with Bonanza for an extra 9-30% in commissions. In exchange, the site provides integrations with Google Shopping, Bing ads, and eBay Advertising.
Etsy
Etsy is the home of crafts and everything artsy. There's a 20-cent listing fee for each item and a 6.5% commission on each sale. The commission is calculated based on the final order value (price + shipping cost).
Ruby Lane
Ruby Lane specializes in antiques, art, and collectibles. The site charges sellers a 25-dollar monthly maintenance fee. It takes an additional 9.9% of each sale as a commission (they call it a service fee). This service fee is capped at $250.
Chairish
Chairish's area of focus is vintage furniture and art. The platform has no listing fees but there is a tiered commission system. The lowest tier, Consignor, applies to sellers with less than 10 listings. It's accompanied by a horrendous commission of 40% on all products sold.
Once you have more than 10 listings, you're classified as a professional and the commission rate drops to 22%. Chairish gives you the option to pay for a Plus ($99 a month) or Elite ($149 a month) membership for a 2% commission reduction on vintage products.
The commission rate on newly built and made-to-order furniture remains at 30% across all but the lowest seller tier where it's 40%.
Poshmark
Poshmark is a marketplace for posh second-hand goods. The platform takes a flat $2.95 fee on sales below $15 and a 20% commission on sales above $15.
Decluttr (Electronics)
Unlike the other sites on this list which merely give you a platform from which to operate a storefront, Decluttr buys directly from you. The site focuses on tech. You can select the make and model number of the technology product you have, describe its condition and they'll make you an offer. You then ship the product to them and they'll pay you via PayPal, direct deposit, or check once it's received.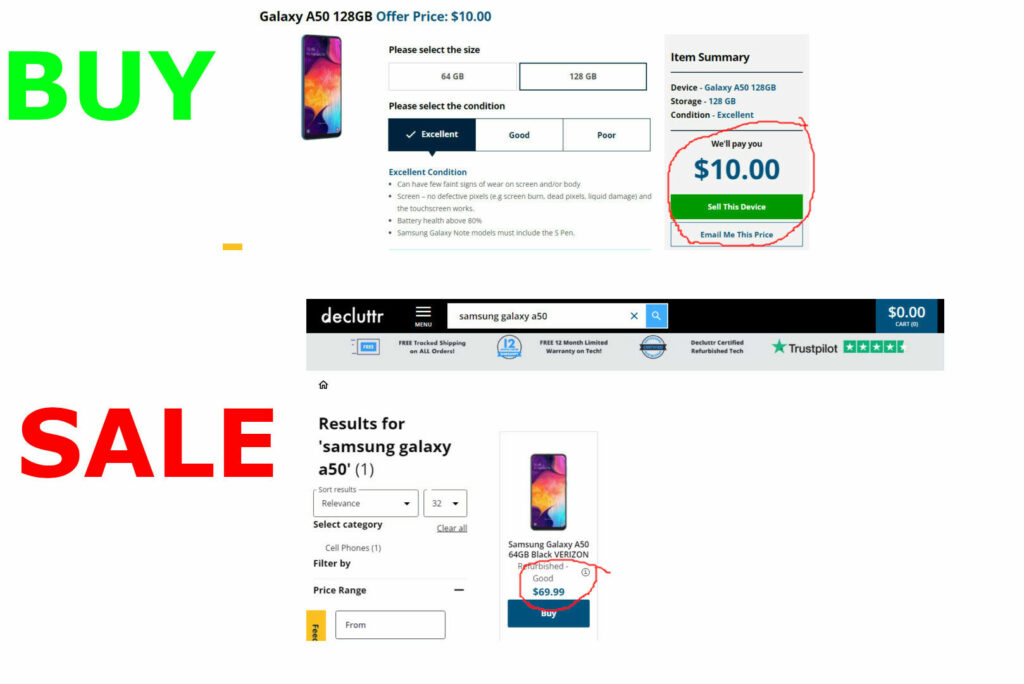 Decluttr's prices are not the best, however. As an experiment, I tried to sell them my old 128 GB Samsung Galaxy A50. They offered me $10. When I searched the site for the Samsung A50s they were selling, they had a 64GB version, and its listed price was nearly $70.
#3. Neighborhood marketplaces
These tend to charge zero fees but they rarely offer checkout options so you will have to meet a buyer in person to close a deal. This limits their scalability. Such platforms are more suited to selling one-off items like your couch rather than running a fully-fledged business.
Facebook Marketplace does have a checkout option but it's not available everywhere and customers might still opt for in-person meetups to complete a transaction. The best locally focused marketplaces are:
Craigslist

Facebook Marketplace

Nextdoor

VarageSale

OfferUp
Which of the above are actually the best places to sell online?
All of them. Or at least a combination of two or three. For example, you can have a seller page on Amazon and your own Shopify store. This allows you to slowly build your own brand and drive traffic to your store while simultaneously leveraging Amazon's reach to get more sales.
If you're banned or start struggling on Amazon for some reason, you'll have your independent store to fall back on. If Amazon or eBay are the only places where you have a storefront, you're completely at their mercy.
There are other factors to consider besides just hedging your bets. Facebook Marketplace, Nextdoor, and VarageSale are great for local sales because the buyers must have a profile with a real and verified identity.
Craigslist, on the other hand, is anonymous. Users don't need a public profile or even a user account for that matter. This makes the platform a little scammy. But because of its popularity, Craiglist remains unavoidable despite its shortcomings. This makes the platform a little scammy but thanks to its popularity, it's unavoidable.
The product is another factor. For niche products like vintage items, a specialized eCommerce site like Ruby Lane might be a better place to find potential buyers when compared to a more generalized marketplace.
Which is the easiest site to find shoppers?
There's no one-site-beats-all answer. The best places to sell online for you will depend on what you want to sell. Crafts will do better on Etsy than on Amazon while your old couch might sell easier on Craigslist or Facebook Marketplace.
Ease is a function of interest and competition. If you have something that people want and you're the only seller (or one of a very small number) you will have an easy time. If you enter a crowded space, on the other hand., you will have a hard time attracting customers.
You should spend more time deciding on what to sell. Once you have a product with reasonable to high demand and little competition, the site won't matter that much. Using this approach will spare you a lot of headaches.
Sources