The Kubota UDT2 has many functionalities and is designed with the highest technology for optimal transmission and hydraulic performance. Despite its superior performance, there are other alternatives in the market that are fully interchangeable. If you are looking for the best Kubota UDT2 equivalents, you can choose from Chevron Synthetic All-Weather THF, Duragard Synthetic, or Star Fire Hydraulic & Transmission Fluid.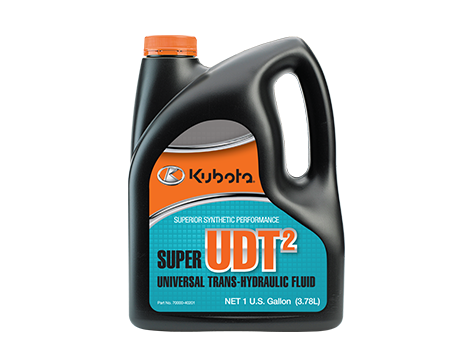 Having the right hydraulic fluid can help reduce wear and corrosion in the hydraulic system. Unlike regular oil, hydraulic oil has a high viscosity, giving it all-season functionality. These oils can lower the heat in hydraulic systems and can also perform well in cold weather.
Read on to learn more about each of the best Kubota UDT2 Equivalents to choose from.
Is It Possible To Mix The Kubota UDT2 Hydraulic Fluid?
The Kubota UDT2 hydraulic fluid is a premium-quality hydraulic fluid that is specially formulated for the Kubota transmission and hydraulic system. This multi-purpose fluid offers enhanced performance and protection for Kubota transmission regardless of the weather conditions.
The UDT2 is not only fully interchangeable but it can also be mixed with another fluid like the Kabota UDT. However, mixing this hydraulic fluid with other fluids is not recommended since it is likely to make your equipment noisy.
Also, mixing can lead to reactions between the components and this can degrade the hydraulic fluid. In other instances, it can damage the engine leading to costly repairs.
Is the Kubota UDT a Good Kubota UDT2 Equivalent?
Like the Kubota UDT2, Kubota UDT is a multifunctional and all-weather hydraulic fluid. It is also listed for use in different tractor applications including transmission, hydraulic, differential, wet brake, and final drive.
It is, therefore, a good alternative for the Kubota UDT2. It offers optimal protection for Kubota equipment that operates at extremely high temperatures to prolong the equipment's life.
What's more, this oil is designed with quality base stock that ensures maximum engine protection against wear, thermal breakdown, corrosion, oxidation, and harmful deposits that can affect its performance.
The other benefit of this hydraulic fluid as a UDT2 alternative is that it can help enhance the efficiency of transmissions. It can improve transmission responsiveness for a smooth operation.
The Kubota UDT comes in different container sizes to choose from depending on your specific needs.
What are Some Good Kubota UDT2 Equivalents Out There?
There are many UDT2 equivalents in the market that you can choose from. In this article, we will look at the three best alternatives that will give you exceptional performance for your equipment.
This multifunctional hydraulic fluid is specially designed to use in tractor hydraulic systems and construction equipment. It offers reliable protection for brakes and metal surfaces when operating in unfavorable conditions.
Tractor users can experience a quiet wet-brake operation without worrying about brake chatter, which can damage the tractor. It's also a multi-seasonal hydraulic fluid, meaning that it can be effective for use in a wide range of temperatures. Overall, it is a good Kubota UDT2 alternative guaranteeing outstanding performances.
Retailing at half the price of most Kubota products, this fluid features almost the same performance as the Kubota UDT2 oil. According to a couple of user reviews, the Duragard oil offers a better, smoother, and even quieter shifting on their tractor.
Some also pointed out that their hydraulics were a bit choppy during the initial run. However, after a few minutes of warming up, they were then able to run as smoothly as possible.
Just like the Kubota UDT2 oil, the Duragard oil also performs well during winter. The advantage is that it's far less costly, making it one of the best Kubota UDT2 equivalents in the market.
Starfire is one of the well-known brands out there when it comes to producing high-quality hydraulic fluids. Its Premium Tractor hydraulic fluid is one of the most popular options out there as far as Kubota UDT2 equivalents go.
Most of the reviews it received from its buyer were positive, with most of them stating that the fluid is an excellent buy considering it features excellent performance at a relatively lower cost. Similar to the Duragard fluid, this one is also a bit cheaper compared to Kubota UDT2, albeit at an almost similar performance.
Final Verdict
Kubota UDT2 is a great Kubota fluid that can be used to lubricate hydraulic systems, transmissions, and other components of tractors and other equipment. While this fluid is a good pick, other alternatives can prove helpful when it comes to hydraulic and transmission performance.
You can choose any of the recommended products above depending on your specific needs and requirements. Also, don't forget to check the manufacturer's handbook to know which hydraulic fluids are recommended.