Have you ever lost your internet connection in the middle of the night while you were doing a rush job, or were you disconnected from an important meeting? And the reason is you forgot to pay for the internet. It's a hassle, right? And what makes it even more frustrating is the possibility of incurring late payment charges for its re-connection and the days you will wait for reconnection.
Missing your payment due date will create chaos in your life, especially since most of us work from home. Thus, Comcast offers payment preferences that you can use at your own convenience to settle your monthly bills. While most people prefer online payments, some are still old-fashioned and prefer payment through the mail, especially for check payments. If that happens, you may want to check that the billing address is listed on the monthly statement. This is useful when you have multiple business accounts. In that case, you may send your check to:
Comcast
P.O Box 70219
Philadelphia, PA 19176-0219
However, the address varies according to your location. It is also noteworthy to include all Comcast account numbers, all payment coupons at the bottom of each bill and the amounts to be applied to each account.
How do I pay my Comcast bill by mail?
Send it to the address indicated on your latest statement of account.
Nowadays, there is a more convenient or automated way of settling your due balances in Comcast. You can either call them at 1-800-Xfinity and follow the automated prompts, pay online, Self-Service Kiosks, or enroll in their autopay. However, paper billing is still there for those who opt to send payment by check. All you have to do is to check the mailing address indicated on your latest statement of account, sign your check, and mail it along with the insert in your bill. Make sure to send a check drawn on a valid U.S. bank account only. Do not mail cash.
How do I pay my Comcast business bill online?
Nowadays, it is really more convenient to settle the payment online. Apart from being faster, it is hassle-free and lessens the instances that the check may be lost while it is en route. It can be ensured that your connection will not be delayed because the check did not arrive on time or because there was an error in clearing the check.
Comcast is an offer of online payment method, Auto Pay, or make a one-time payment online. You can also make a payment using the Comcast Business App.
Step 1: Register your account.
Activate Comcast My Accountusing your account number included in the welcome email after the installation. Fill out the required information then you are now registered.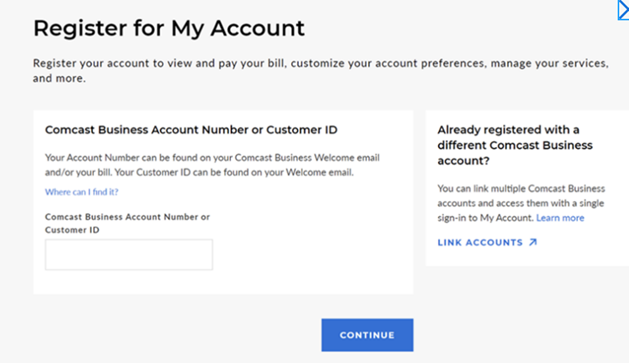 Step 2: Log in to My Account and pay.
After logging in, scroll down to Comcast Business Services Billing, then click View Details.
Step 3: Make a one-time payment.
Choose to pay the current balance or Pay other amount, as well as the date for payment. Input the payment method and submit your payment.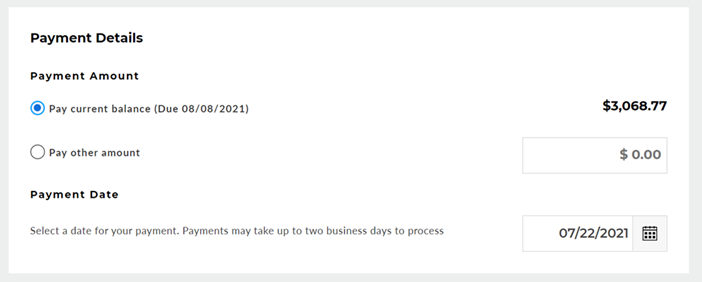 You can also pay online without logging in to your account. Simply go to business.comcast.com/payment/quickpay and head to the Quick pay option. Fill out the necessary information and choose your mode of payment.
Where can I pay my Comcast bill?
Comcast has made sure that they have all the payment options available, to ensure that you can settle your payment on time without any hassle. Here are the ways to pay Comcast:
Register for My Account and pay your bills
Set up Auto Pay.
Through Try Quick Pay on the My Account sign-in page.
Pay using the Comcast Business App
Pay using Amazon Alexa to pay your bill online.
Pay using a check to Comcast's mailing address.
Pay walk-in or in Self-Service Kiosks.
Pay using Comcast Automated phone thru 1-800-Xfinity (1-800-934-6489).
How do I contact Comcast about my bill?
Call (800) 266-2278
You can call Comcast customer service number at (800) 266-2278 for 24/7 assistance, or you can chat with them or send them an email.
Can I pay someone else's Comcast bill?
Yes, you can pay someone else's Comcast bill.
Now, you can settle your friend's internet balance in a very easy way. You no longer need his login credentials to pay for his internet. Remember you can pay without requiring you to sign into your account using the Quick pay option. All you need is the account number and additional account detail, like a phone number or ZIP code. You can also, bring your paper bill to any payment channel and settle the payment for a minimal transaction fee.
How long will Comcast let you go without paying your bill?
They will allow 4 days for you to settle your balance immediately.
Usually, Comcast allows up to 4 days to settle your balance before they cut your services.