Fios Quantum Gateway Router G1100 is the latest home router model of Verizon. The router comes with a four-port gigabit switch, which is perfect for wired connections such as gaming consoles, smart TVs, and many more. It has a Beamforming Technology and built-in USB 2.0 ports. Verizon Fios G1100 works flawlessly with Verizon internet and has Wi-Fi coverage of up to 325 square feet, suitable for more considerable users and bigger homes. This router best works if the router's firmware is updated regularly.
Fios G1100 Firmware update can help a router work better, fix bugs, and add support for faster internet speed, thus, improving the overall Wi-Fi experience of the end-users. Another crucial benefit of an up-to-date firmware version is the security protection it provides. Online security threats mutate very fast targeting home Wi-Fi networks. Updated firmware makes it hard for attacks to happen.
How do I update the firmware on my FiOS G1100?
Usually, Verizon automatically updates the router version. However, in case you are having problems with your router and seems that version is outdated, you can manually push for an update.
Step 1: Check if the firmware version is up to date
Access your Fios gateway and check if the firmware is running in the 02.02.00.13 version. If not, proceed updating it. 

Step 2: Force an update
There are two ways to force an update to your G1100 firmware, which are:
Reset your Fios Gateway G1100. Hold the WPS button of the device for at least 10 seconds to reboot it. The device will restart and reconnects to the Verizon network. The device should be able to grab and install the latest firmware version. 
Use URL to trigger an update request. Type in https://192.168.1.1/#/advanced/fwupgrade or http://192.168.1.1/#/advanced/fwrestore in your browser address bar. Log in using "admin" as the username. Key in the password written in your router. It will route you to a screen for an update. Follow the instructions indicated.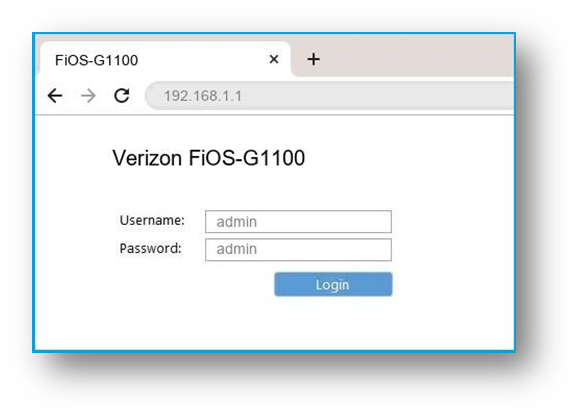 If these methods did not push through, try calling Verizon customer service.
Where can I download the latest firmware for the FiOS-G1100?
Step 1: Go to the Free and Open-Source Software portal
Open your browser and paste
https://www.verizon.com/support/residential/internet/equipment/open-source-software on the address bar.
Step 2: Go to Firmware Downloads
Scroll down until you reached the Firmware Downloads list. Look for the Fios Quantum Gateway (G1100) release that you need. Click and download. 

Does Verizon FiOS automatically update router firmware?
Yes, Verizon automatically updates your Fios Gateway G1100 firmware.
Verizon automatically updates your Fios Gateway G1100 firmware. Simply do a full restart of the router to complete the update. To check if it pushed through, you could always check your firmware version through http://myfiosgateway.com/. The version should show 02.02.00.13. In case it is not update automatically, try resetting your router by pressing the WPS button located on the front of the router for 10 seconds to reboot it. Once it restarts and reconnects to Verizon's network, it should grab and install the latest firmware.
How to check my Fios Gateway G1100 firmware version?
Having an updated version of Fios Gateway G1100 is paramount in the overall performance of your router. Your Fios Gateway G1100 should run in a 02.02.00.13 firmware, otherwise, there might be vulnerabilities present with a firmware older than 02.02.00.13, such as intercepting login credentials and gaining access to a router remotely. Usually, Verizon push an automatic update on Fios Gateway G1100. But if you want to check if the firmware version is up to date, you can check it by accessing Fios gateway. Follow the steps below to check your firmware version:
Step 1: Open http://myfiosgateway.com/ on a browser.
On the address bar of your browser, type in hhttp://myfiosgateway.com/ to access your Fios G1100 gateway.
Step 2: Log in using your admin name and password.
You can use the default name as "admin". The password is usually written at the back of your Fios Gateway G1100 router.
Step 3: Go to system monitoring
At the selection above of the dashboard, click System Monitoring. Click Router status and look at the Firmware Version section of the page. It should list 02.02.00.13. If it is not up to date, either trigger an update or call Verizon customer service so they can push for a firmware update on their end.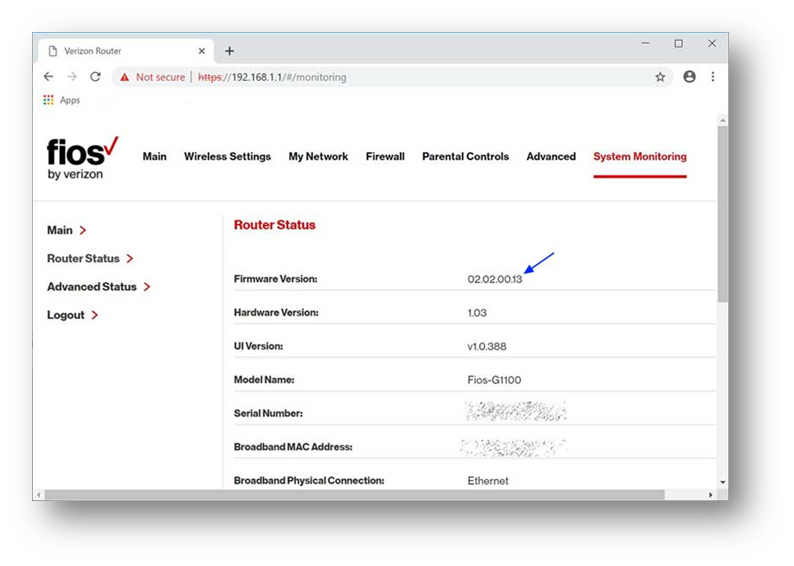 How to fix if Fios Gateway G1100 failed to update? 
Verizon pushes updates automatically to G1100. But a small percentage of users are unable to update their G1100 to the latest version. Generally, this happens when your internet connection is not stable, your device is accidentally turned off, or sometimes, receiving a phone call during the update can cause a problem. Try to restart your device to trigger the update and check if the version has been updated. In case it didn't push through, try to factory reset your G1100. If still does not work, call Verizon customer service for assistance.