Gucci is an Italian luxury brand of leather craftsmanship and accessories based in Florence, Italy, and founded in 1921 by Guccio Gucci. They are known for selling luxury items such as handbags, garments, footwear, accessories, makeup, fragrances, and many more. You can set an appointment or walk into one of their 483 stores worldwide or visit their official website to browse and shop. Gucci accepts several payment options, such as cash, Apple pay, Amazon Pay, Affirm, credit cards, PayPal, or debit cards. However, Gucci doesn't take financing apps as a payment option at the moment.
The only way you can use Klarna to buy Gucci is to:
Step 1
Link your Klarna with your Apple wallet, then pay using your Apple pay. It is easy to link your Klarna to your Apple wallet using your Klarna app.
Step 2
Use your Klarna bank-issued visa debit card upon purchase of any Gucci merchandise. You can use it just any other visa card to buy in-store or online shops.
Step 3
Buy at any third-party store such as Designer Revival or luxury item department stores, and avail of their buy now, pay later payment option.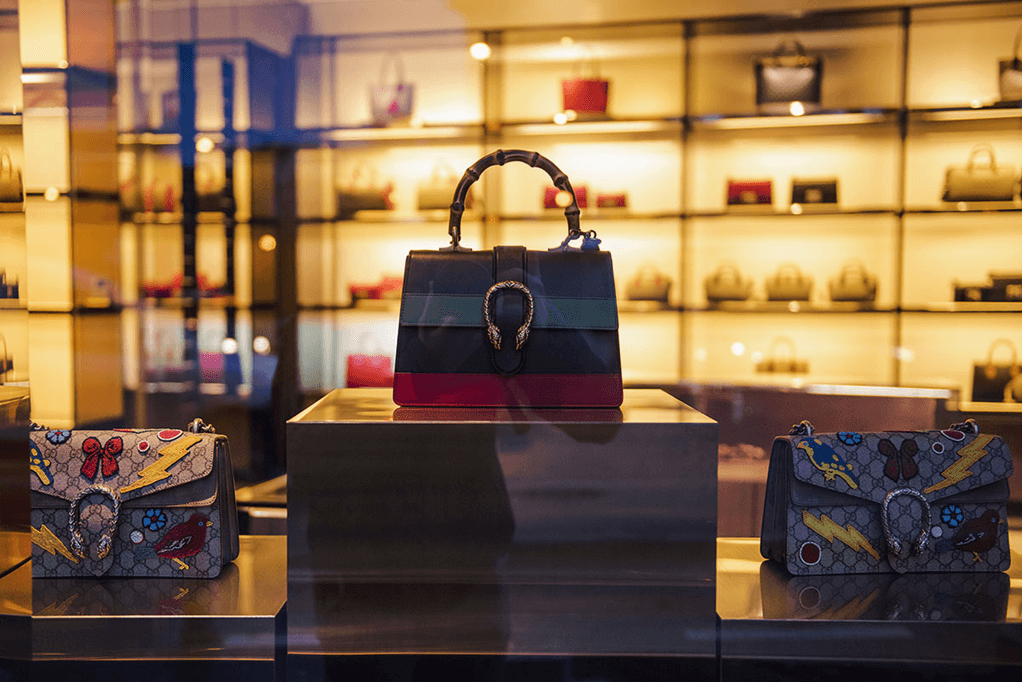 Does Gucci accept Klarna?
Gucci does not accept Klarna buy now pay later as a payment option at any branch worldwide or online store. The only way you use Klana to purchase your dream Gucci apparel is to buy at a third-party reseller or online shop that offers Klarna as their payment option. Another is by using your Klarna banking-issued debit card. Klarna opened its first consumer banking account in Germany. Consumer accounts come with a visa debit card which you can link to your Apple pay or use directly at any Gucci store worldwide. You can also use it at any Gucci online shop or any flagship store.
What designer sites sell Gucci that have Klarna?
Although you cannot avail of Gucci using Klarna financing in any Gucci stores, here are a few designer sites that use Klarna as a payment option:
The Designer Revival
Designer Revival is an official partner of Klarna that sells pre-owned luxury pieces below retail price, including Gucci, Louis Vuitton, MCM, Burberry, Chanel, Fendi, Prada, Saint Laurent, and many more. They offer a buy now pay later option to pay in 4 interest-free installments or monthly financing.
Bloomingdales
Bloomingdale is an American luxury department store that offers a wide array of services for its customers, including Size Charts, Check Gift Card Balance, Personal Shoppers, Studio Services, Visitor Services, and many more. You can buy Gucci in Bloomingdale and use Klarna as a payment option from $10 to $2,000 worth of an item.
Vestiaire Collective
Vestiaire Collective is based in Paris, France, founded by Fanny Moisant. They offer pre-loved fashion at 30 to 70% off the original retail price. They also offer Pay against invoices or in monthly installments using Klarna. Simply place your order and select Klarna invoice or payment by installments upon check out.
Linvelles
They offer popular bags from Gucci, including belt bags, shoulder bags, crossbody bags, and many more. It is all available to buy now, pay later with Klarna, Clearpay, and Paypal Credit. Simply choose Pay with Klarna at checkout. The payment schedule is 30 and 60 days after your first payment.
Farfetch
Farfetch is a British-Portuguese online luxury fashion retail platform that sells luxury items from over 700 boutiques and brands worldwide, including Gucci. They sell pre-loved designer pieces, designer purses & bags, and many more. You can buy Gucci on their website using your Klarna upon check out.
How to Buy Gucci Now and Pay Later with Klarna?
Step-1: Go to any affiliated designer sites like Designer Revival or Bloomingdale
Step-2: To buy your dream Gucci item, add it to your cart
Step-3: Start to checkout
Step-4: Select Klarna at the checkout to pay
Step-5: Manage your orders and payments in the Klarna app
You would know if you are eligible for 4 interest-free payments or financing with Klarna if the Klarna payment method is enabled on your checkout. You will be charged for the first quarter of the total amount after receiving your order. Klarna will send you a notification once they have posted the payment.
What Gucci bag accepts Klarna?
Gucci doesn't accept Klarna app payment at all, regardless of what kind of bag it is. The only way you can buy Gucci at a Gucci official store is to use your Klarna issued debit card. Don't get confused with the Klarna app and Klarna banking. Klarna banking is a legit consumer bank account that issues a visa debit card which you can use at Gucci stores. They do not accept installment plans from Klarna as of the moment, but you can always use other payment options.