Shopping smoothly and conveniently anywhere is one of the perks of having a credit card. It is also a great way to build credit, get rewards and contingency. Credit cards increased the purchasing power of customers at a single swipe. Thus, most people opt to apply for a card. Traditionally, Banks and credit unions are the ones who provide credit cards to people. However, as technology advances, fintech companies have expanded in the financial space.
One of the rising fintech companies that offer credit options or buy-now-pay-later plans is Klarna. We can reasonably say that Klarna is a credit card because it has the same feature as buy-now-pay-later. Klarna issues a one-time virtual credit card that works like the traditional card used when you shop online. It offers a more flexible shopping experience to its customers at a single tap. You can quickly generate a virtual card through the app and key in the card details (account number, CVV, date) at the store check-out, just like a traditional credit card.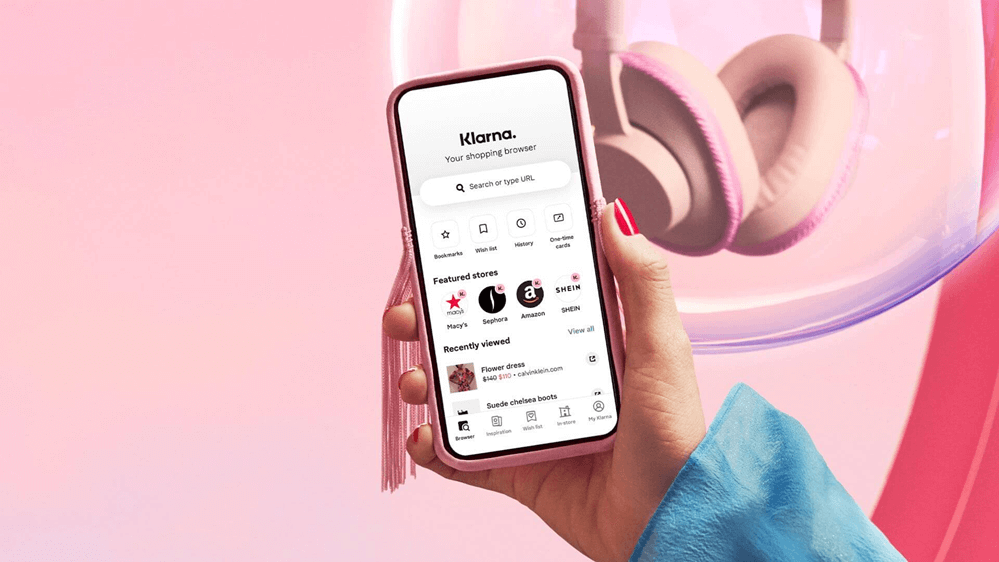 How is Klarna different from a Credit card?
Klarna provides credit options to their users but, how is Klarna different from a credit card? Here are the most notable differences between the two:
Cheaper than a credit card– a buy-now-pay-later model of Klarna is more affordable for consumers than traditional credit cards that tend consumers to get into deep debt.
No interest- Klarna is better than a credit card because it doesn't charge interest, unlike credit cards with an average credit card interest rate of 16.13%.
Low late payment fee- Klarna will attempt twice to collect the payment, then will charge a late fee of up to $7.00, added to the outstanding balance. While credit cards charge from $28 to $39.
Credit limits- credit cards have a higher credit limit than Klarna, who gives credit on a purchase-by-purchase basis.
Credit score- unlike credit card companies, Klarna does soft credit checks only, which means it does not affect a person's credit score and is not visible to other lenders.
Whatever the differences are, you should use both credit cards and Klarna responsibly. Because both could be a slippery slope into debt if not managed correctly.
Is Klarna actually zero interest?
One of the best offers of Klarna is the buy-now-pay-later installment plans that have no interest. They have two payment plans with zero interest rates. These are:
4 interest-free payments- Give shoppers the freedom to split purchases into 4 payments without any interest. Once the customer has received the item from the merchant, Klarna will send an email with the payment schedule outline.
Pay in 30 days- It allows the customers to receive the item first and pay within 30 days, without interest.
Does Klarna affect my credit score?
Klarna does not affect your credit score because it doesn't involve a hard credit check. Klarna will only conduct a hard check for up to 36 months financing option based on your credit history. On the other hand, Klarna does a soft credit check for interest-free payment plans such as Pay-in 4 and Pay in 30 days which does not hurt your credit score. Each credit inquiry can lessen your credit score by a few points, and this soft credit check will not show as an inquiry on your credit report.
Also, your credit score will not really matter if you apply for plans in Klarna, because Klarna has no minimum credit score to qualify for financing. It is even possible to get approved with no credit history. Other lenders will have no visibility on your credit information, even if you missed paying on time or not paying at all. Klarna even allows late payment with no additional fees within ten days. They will retry to collect the payment after ten days. If the customer fails to settle the payment after ten days, Klarna will only charge $7 as a penalty applied to the next installment due date. If the user does not pay at all, the account will be blocked, but never get reported to the credit bureau nor affect your credit score.
How to use Klarna in-store?
Klarna allows in-store purchases and pays with flexible payment options. All you have to do is to look for a participating store that offers "shop now, pay later" in Klarna and you'd be able to shop using your one-time card. Follow the simple steps below:
Step-1: Open the Klarna app
Step-2: Click the "in-store" tab which will bring up a list of the stores where this option is currently available.
Step-3: Select the merchant you want to shop with.
Step-4: Set a spending budget and see your payment plan
Step-5: Create a one-time credit card in the Klarna app
Step-6: Add the created card to your Apple pay or Google pay wallet
Step-7: Tap to pay