Peak coolant and antifreeze is one of the best coolants out there on the market. Given the extensive coolant selection for Asian, European, and American vehicles, the extended life expectancy of the coolants, and the low price, Peak Coolants appear to be a good value for money.
Additionally, Peak coolants allow car owners to change the coolant only once after a complete coolant flush. However, you must follow proper car maintenance.
You can stay for about 5 years without changing your coolant if you use the Peak Coolant properly.
Furthermore, the coolant is silicate and phosphate-free. This gives you the freedom to add the coolant to older antifreeze without flushing. This is one of the features that define a good coolant.
Another feature that makes the Peak coolant a good product for many motorists is the color coding feature. A major advantage for car owners is that the coolant colors do not alter the color of antifreeze when topped off.
Coolant from Peak is prediluted in a 50/50 mixture, making it easy and quick to use. Below is more on why the Peak brand is a good coolant.
What Ingredients Make Up the Peak Coolant?
The Peak Coolant uses an ethylene glycol-based ingredient that contains a mixture of organic acid inhibitors and stabilizers. The mixture forms a coolant that protects diesel and gasoline engines from corrosion.
Specific ingredients of the Peak Coolants depend on the type of vehicle and the original manufacturer. For example, the ingredients of Peak Coolants for North American vehicles are slightly different from European vehicles.
However, all peak coolants are free of phosphate and amines.
Peak coolant ingredients for North American vehicles
North American vehicles' Peak Coolant contains a mixture of organic acids, a nitrite/nitrate combination and low volume silicate. Deposit control additives are added to control the silicate and offer protection against cavitation of the wet sleeve liners and scale formation.
This coolant is free of amines, 2-ethyl hexanoic acid, and phosphate.
These ingredients make the peak coolant a good choice for Chryslers and Fords. Furthermore, it meets the ASTM D3306, D6210, and D4985 performance standards.
Peak coolant ingredients for European vehicles
Typical European Peak coolant consists of a mixture of enhanced organic acid inhibitors that protect against corrosion. This coolant is free of nitrate, nitrite, phosphate, amines, and borate.
The coolant is prediluted with a 50/50 mixture of antifreeze and coolant.
The European Peak Coolant meets the ASTM D3306 and BS 6580 performance requirements.
Peak ingredients for Asian vehicles
Like all Peak coolants, the Peak Asian coolant comes from an ethylene glycol-based formula. It mainly applies to vehicles manufactured in Asia that require POAT (phosphate-enhanced organic acid technology).
The Asian Peak Coolant contains organic acid corrosion inhibitors and low-volume phosphate. It is free of nitrite, amines, silicate, and borate.
Is Peak Coolant Safe for Use on Aluminum?
One of the factors that many car owners look for in a coolant is protection against corrosion for all materials. The Peak coolant manufacturer has considered this with a phosphate and amine-free formula that protects all metals from corrosion including aluminum.
Peak coolants contain very small amounts of silicates and phosphates that have no noticeable effect on aluminum components.
It is, therefore, safe for you to use Peak Coolants if your vehicle has aluminum parts.
How Does Peak Coolant Compare to Other Coolants?
Although Peak Coolant is one of the best coolants out there, there are still other coolants worth considering. They include:
Valvoline MaxLife Antifreeze + Coolant
The Valvoline MaxLife is considered one of the best coolants on the market. The Antifreeze Color Mixing Technology, Alugard Plus, enables it to mix with other antifreeze colors.
It is prediluted with 50% water and its yellow color is compatible with many other antifreeze brands. It is also safe to use for both gasoline and diesel engines.
Both Valvoline and Peak coolants work in all vehicle models. However, Valvoline is more advanced than Peak due to the patented Alugard Plus technology.
Nevertheless, the Peak brand is more affordable for many car owners.
Evans Cooling System High-Performance Waterless Engine Coolant
The Prestone prime antifreeze stands out as one of the most superior and long-lasting coolants. It is one of the best options for gasoline cars, light-duty and heavy-duty diesel vehicles, tractor-trailers, and CNG engines.
This coolant does not require additives since it uses a waterless formula. It also prevents overheating due to vaporizing and reduces electrolysis and corrosion, unlike water-based coolants.
The Evans Waterless Coolant has a higher boiling point than Peak Coolant since it does not use water. However, this means you cannot mix it with other coolants and have to stick with it once you start using it.
In addition, Evans waterless coolant is more expensive than Peak Coolants due to upfront expenses.
Is Peak Coolant One of the Best Antifreezes on the Market?
Peak antifreeze and coolant is one of the top three coolants on the market. It is the only brand that has approval from car manufacturers such as Daimler-Chrysler and Ford.
Its properties and compatibility with all vehicles from America, Europe, and Asia make it one of the best antifreezes on the market.
Is Peak Coolant Good for BMW?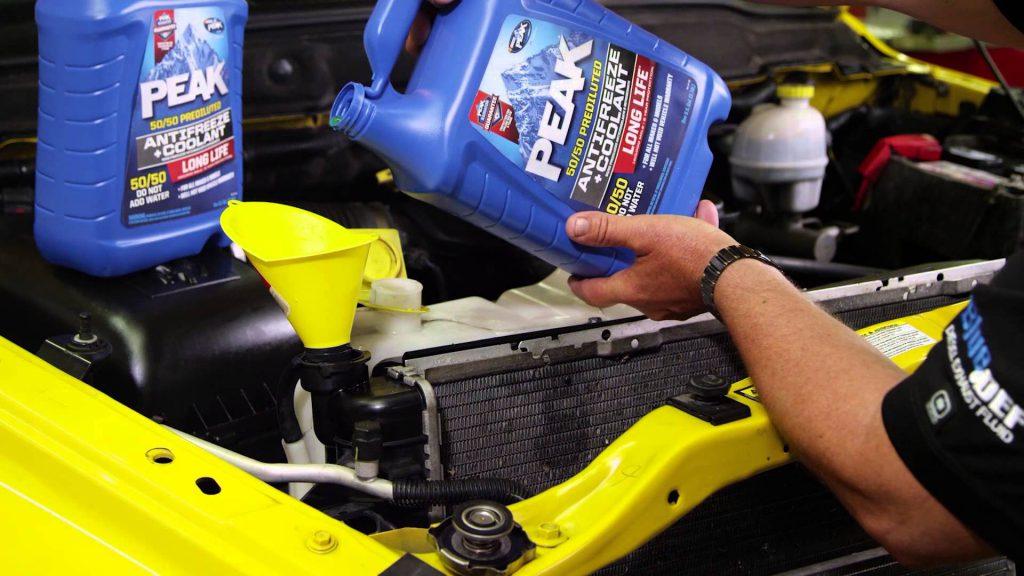 Peak brand makes coolants compatible with almost all vehicles made in Asia, Europe and America. BMW produces cars in Germany and Peak offers a peak coolant variety for European vehicles called the Peak Original Equipment Technology Blue Coolant.
The coolant uses silicate-enhanced hybrid organic acid technology (HOAT) that allows compatibility with many European cars including BMWs. The Peak blue extended life coolant is therefore good for the BMW models.
However, always do your research and ask your dealer before committing to any coolant for your BMW.
Is Peak Coolant Good for Toyota?
As you have seen throughout this article, Peak has a variety of coolants that are safe to use on all vehicles. The Peak OET extended life pink/red concentrate coolant is the best peak product for Asian vehicles.
The Peak OET pink coolant is good for your Toyota car. This coolant uses POAT (Phosphate-Enhanced Organic Acid Technology), which is compatible with most Asian cars like Toyota, Scion, Lexus, etc.