The advancement of technology has widened the horizons of retailers by allowing them to connect with potential customers and express their brand in a new way. Online shopping has quickly replaced physical store shopping, especially during the pandemic where people became more dependent on online shopping platforms. However, despite the tremendous growth and success of the e-commerce industry, it also faces problems like any other industry. Ecommerce fraud is one of the major problems of online merchants, which includes any malicious action designed to exploit online stores. Klarna, as one of the most trusted payment options for online shopping, took the initiative to prevent fraudulent transactions and protect the integrity of its process.
When Klarna detects a possible fraud on the system, it will set the status to Payment in progress. Klarna will manually review the order and ensure the transaction is legitimate. At this point, Klarna will notify the customer that the order is in progress and dispatch will be held. Klarna set up a team to handle this kind of issue and let them review the legitimacy of the order. After the review, this team will give their final verdict on whether they will approve or deny the payment.
What does payment in progress mean in Klarna?
The Pending Payment means a potential fraud has been detected and is subject to manual review. A fraud team will conduct a series of verification processes to complete the review. Once you see a green light, this means payment is approved. Klarna set up certain flags on the system to guarantee the payment of the customer, so your money is safe. The review process of the Fraud team may take up to 24 hours. You have to wait for the decision and hope for approval. You can also monitor the status through the app in the Activity Log of the merchant portal. If the Fraud team rejected the order, contact Klarna customer support if you need additional information or clarification.
Below is the summary of the review process:
In review– purchase in on hold and under review, with fraud_status PENDING sent to merchant notification URL
After review- review has been completed with the status of fraud_status ACCEPTED, or e fraud_status REJECTED.
How long does it take Klarna to process payment?
Once a customer checks out an order, Klarna will automatically pay the merchant immediately. Klarna only collects a small percentage from the merchant. In doing so, Klarna will assume the full financial risk of lending a customer. Before approving a payment, Klarna also checks the legitimacy of the transaction. Klarna also wants to ensure that it is free from any form of fraud, such as using a stolen or fake credit card, using a false identity, and many more. When Klarna detects a red flag, the payment will be held and will show as payment in progress. The fraud team will review the transaction, which usually takes 4 to 8 business hours and can last up to 24 hours. The fraud team can either accept or reject the payment depending on their review.
Why has my Klarna payment not been taken?
Right after you check out your order, Klarna will send you an email that your payment method has been taken. However, there are instances wherein your payment has not been taken right away. Several factors happen when your payment is not taken such as:
System bug- make sure that you are using an updated version of the Klarna app. If not, then update your Klarna app.
Possible fraud- the system has detected a flag for possible fraud. A review team will conduct some verification to approve your purchase. Review may take 4-8 business hours.
Klarna restriction- your payment has not been accepted if you are restricted to continue your purchase. There's a possibility that you have a reported financial hardship or delinquency from a prior purchase.
There are a few tips to avoid this from happening:
Pay on time– delinquency will give you a bad credit record and can affect your future purchase. Thus, ensure to pay on time according to your payment schedule. You can also pay earlier if you want.
Manage your debt to a minimum- It is best to settle your unpaid balances first before applying to another credit option.
Connect your bank account- Klarna would have a better grasp of your ability to pay your credits.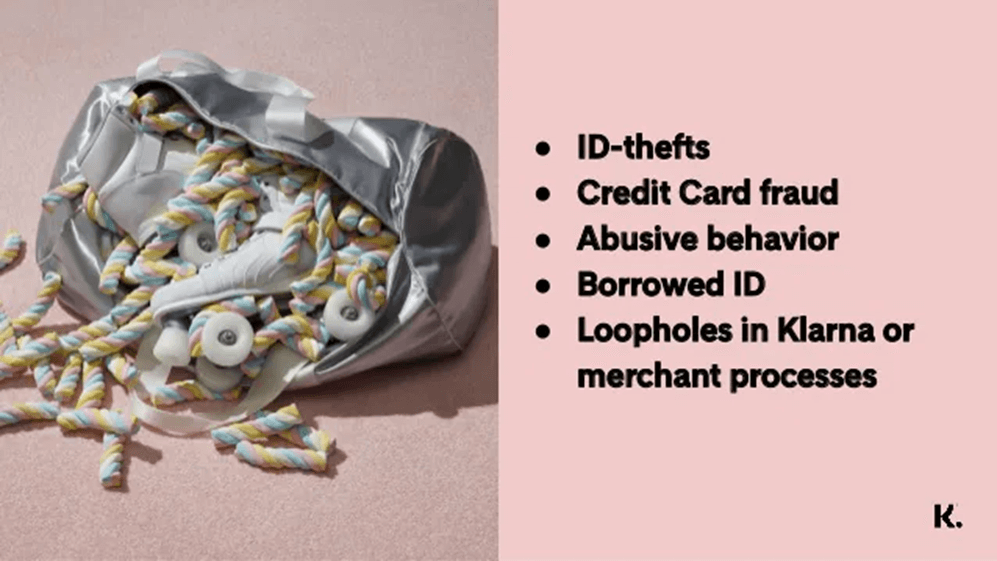 How do I know if I've been accepted for Klarna?
To know if you have been approved with Klarna, check your email if there's correspondence from Klarna. Upon check out, Klarna usually sends an approval email right away along with the schedule of payments. You can also log in to the Klarna app and monitor the status of your request. Here's a quick view of how you can track your statements, outstanding balance, and payments:
Step-1: Log in to Klarna app
Step-2: Select 'My Klarna'
Step-3: Go to purchases and payments, or Klarna Financing Account
Step-4: View your payments and statement history