What is Discord Nitro?
Discord Nitro is the premium version of Discord. It allows for a host of additional features not available to other app users. There are two versions of Discord Nitro: Nitro and Nitro Classic.
Discord Nitro is so expensive because it's the company's only source of revenue. Discord is still a for-profit company and it needs to make money to pay its staff and cover maintenance costs. Since a majority of people use the free version of Discord, premium users have to subsidize everyone else.
Discord Nitro Vs Nitro Classic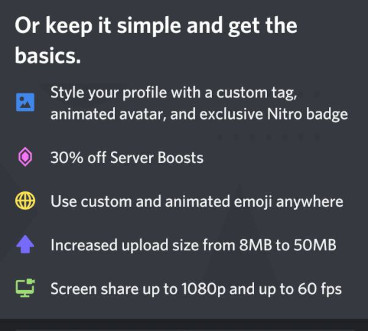 Nitro Classic is the more "basic" of the two. It costs $4.99 a month. The annual subscription is discounted at $49.99. Nitro Classic offers the following features:
You can style your profile with a custom tag, animated avatar, and an exclusive Nitro badge. Users of the standard app have auto-generated tags.
You get 30% off server boosts.
You can use custom and animated emojis anywhere on the app instead of being limited to the available ones.
You can upload files of up to 50MB. Users of the standard version are limited to a file size of 8MB.
The resolution of your streams can be increased to 1080p (HD quality) with a frame rate of 60 fps.
Discord Nitro is the more advanced version with additional features and a price tag of $9.99 a month. The annual package goes for $ 99.99. Features include: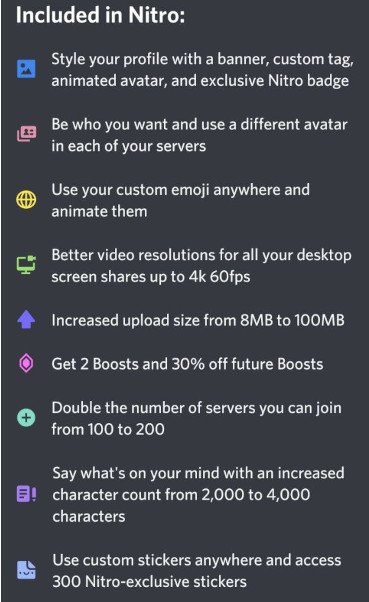 You can style your profile with a custom tag, avatar, and exclusive Nitro badge.
You can use a different avatar on different servers. Users of the standard app and Nitro Classic have the same avatar across all servers.
You can use custom and animated emojis anywhere.
You can use 4K resolution on all your video streams and screen shares.
You can upload files as large as 100MB.
You can join up to 200 servers. Users of the standard app are limited to 100.
You can use up to 4,000 characters on a post. Users of the standard app and Nitro Classic are limited to 2,000 characters.
You can use custom stickers anywhere. Discord also provides access to 300 Nitro-exclusive stickers.
Is Discord Nitro too expensive?
Discord Nitro is definitely too expensive. $9.99 a month for what amounts to mostly cosmetic upgrades is clearly too much. The features Discord hides behind a paywall are available for free on other platforms.
A Discord Nitro subscription is on par with a standard Netflix subscription. Other streaming sites charge even less. Streaming sites have production and licensing costs for their movies and shows in addition to the bandwidth and staffing costs that they may share with Discord although even then theirs are still higher.
Why is Discord Nitro so expensive according to Reddit?
Some Redditors believe Nitro is so expensive because the company is greedy. This is more of an emotional response rather than a reasoned one, however.
We have no insight into the company's finances and so cannot make that determination. Discord had revenues of $130 million in 2020. As it's still privately held, the company doesn't need to disclose how much revenue goes to costs and how much is booked as profit.
Can you get Discord Nitro for free?
You can but it's very hard. The easiest way to get Discord Nitro is by getting someone else to pay for it. This technically makes it free for you.
Epic Games and Youtube Premium have also previously given out Discord Nitro subscriptions to their subscribers for free. These giveaways are rare though. You should also be on the lookout for anyone offering "free" Nitro. These are more likely to be scammers.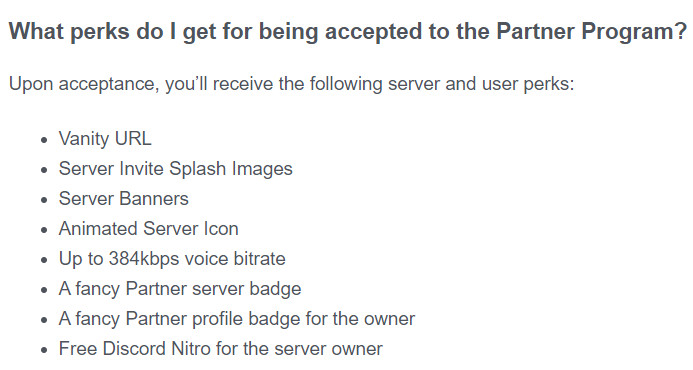 Another way to get Discord Nitro for free is through the company's partner program. You have to be the owner of the Discord server in question though. The members get nothing. To qualify as a partner, you need to meet the following conditions:
Your server must be at least eight weeks old.
Your server needs to have at least 500 members and keep growing.
Have at least 50 active communicators and 100 viewers a week.
Have a retention rate of 20% for new members over the first week for an eight-week period.
Enable two-factor authentication for server moderation.
Once your server meets all these conditions you can apply to join Discord's partner program. If your application is accepted, your server gets a partner badge and you get free Nitro.
Should you buy Discord Nitro?
No. The only reason you should have to buy Discord Nitro is if you spend all your time on the app. If you only use it for a couple of minutes or an hour at a time, there's little reason to pay for Nitro. Apart from the file upload limit and better resolution while streaming, the rest of the upgrades are merely cosmetic.
Can you pirate Discord Nitro?
With enough technical know-how, you can pirate anything. The question isn't whether you can but whether you should. And you shouldn't. Firstly, it's immoral and illegal. Secondly, Discord will shut down your pirated version and possibly suspend your user account as soon as they discover it. The effort and the risk don't justify the reward.
Is Discord nitro worth it?
No.