Fast and reliable internet speed is paramount in almost all facets today. Be in your business, personal life, studies, family time, security, and health. Good internet connection has played a crucial role in our lives and has become essential as electricity, water, and gas. Xfinity and Verizon are the two telecommunication giants in America that provide the fastest internet speed. They market services including cable television, internet, telephone, and wireless services.
There are several reasons why people switch to other ISP. A better price on service was the major reason behind the shift. Some wants to get a better bundle of Internet, TV, and phone services. Poor customer service is also one of the reasons, or it could relocation. Switching internet service might seem like a hassle and can be costly. In this article, we would provide some guidance and insights about switching from Xfinity and Verizon.
How much does it cost to switch to Fios?
The Verizon Fios transfer is free
Switching from one internet provider to another could be costly sometimes. Some ISPs charge an early termination fee, or you might need to purchase another set of equipment compatible with the next ISP. Unlike most internet service providers, Verizon Fios demands no annual contract, which means no early termination fees. However, you still have to pay $99 for the set up fee. The set up fee will include modem/router with Fios Gigabit Connection service.
How can I switch my internet connection from Fios to Xfiniti?
Here are the steps on how you can switch from Verizon to Xfinity.
Step 1: Cancel your service from Verizon
Inform Verizon that you want to cancel the service by calling 1.844.837.2262 (Monday – Friday, 8:00 – 7:00 pm EDT). Be prepared for the early termination fee, if you cancel while you are under contract, which can cost from $350 to $15 per month. You must return rental equipment within 30 days of disconnecting your service.
Step 2: Apply to Xfinity
Call Xfinity hot line through 1-855-870-1311 or submit your application online. Xfinity offers up to a $200 Visa Prepaid Card if you switch to Xfinity. But, be ready for the one-time installation fee of $89.99. In addition, keep in mind that Xfinity will not pay off your remaining device balance or early termination fee from Verizon Fios.
Go to the Xfinity website and click shop internet deals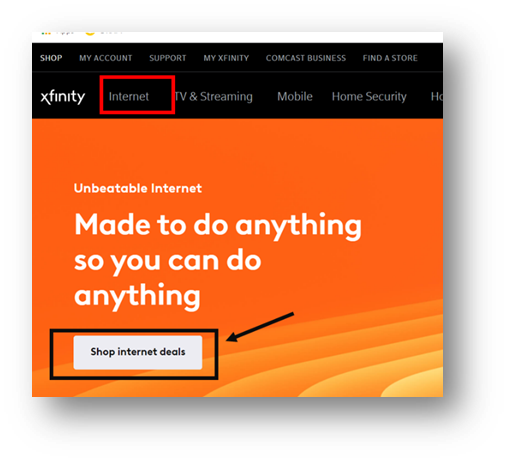 Choose your desired speed and check the availability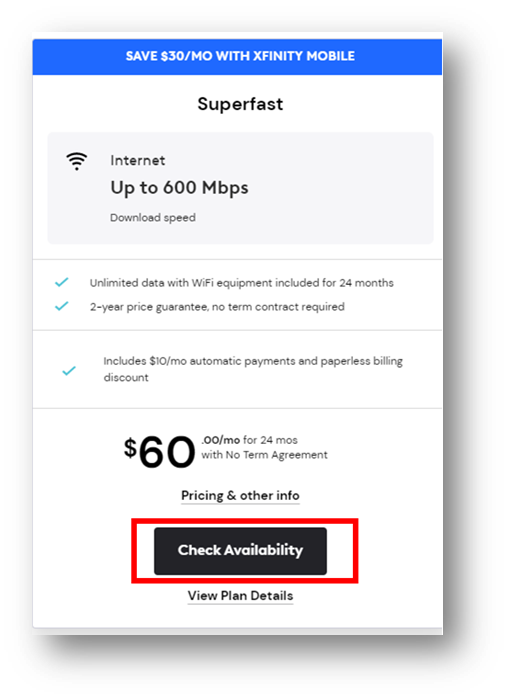 Check if Xfiniti is available in your location.

Click shop this speed if you're already decided.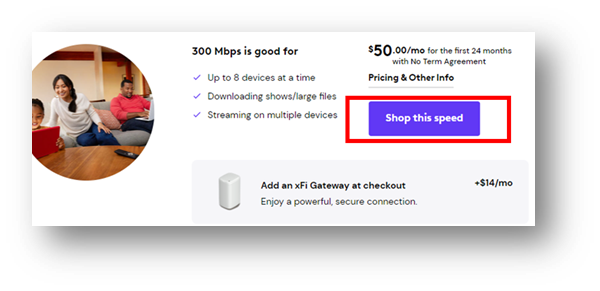 Build your package, complete the application, and wait for the approval.  Finally, schedule the installation.
Which is cheaper Verizon or Xfinity?
Xfinity is rather cheaper than Verizon
Xfinity is rather cheaper than Verizon, as the plans with Xfinity start at just $30 per month only, while Verizon's plans start at $39.99 per month. However, Verizon has a better value for money and better customer service than Xfinity. (www.easyvet.com) Since Verizon is using fiberoptic, speed and stability of Verizon is way better than Xfinity.
How can I switch my internet connection from Xfinity to Fios?
Switching from Xfinity to Verizon Fios is not that complicated. In fact, Verizon will offer up to a $500 credit to help pay any early termination fees from Xfinity. To get started:
Step 1: Cancel your service from Xfinity
There are four ways to cancel your Xfinity subscription:
You can request callback from Xfinity customer service
You can cancel through chat support
You can visit the local Xfinity store
You can cancel through their website. A customer agent will contact your within 2 days
You can mail a cancellation request to:
Comcast Cable
ATTN: Service Change Requests
1701 JFK Blvd.
Philadelphia, PA 19103
include your first and last name, service address, account number, and phone number. Remember that the early termination fee is $10/month for the remaining months of the contract.
Step 2: Apply to Verizon
Go to the Verizon website and check for the availability of your location.
Complete the online application form
Schedule an installation.
Can I have both Fios and Xfinity?
Yes, you can have both Xfinity and Fios in your house for as long as you will apply for two separate connections. Have two separate wireless routers and set them on non-overlapping channels.
Comcast Xfinity vs. Verizon Fios
There are things to consider before deciding which internet service provider you would choose. The two internet provider giants in the U.S. are Verizon and Xfinity. Both have been successful in providing internet service across the country and have become the best reliable internet service provider. Here are some of the areas you can check before deciding to subscribe:
Type of Connection
Verizon Fios uses fiberoptics while Xfinity is a hybrid of fiber and coax service.
Latency, Download, and Upload Speed
Xfinity has a higher maximum speed, up to 2000 Mbps, while Verizon's max is only at 940 Mbps. However, because Fios uses pure fiber, it has a faster download speed which is more reliable than Xfinity. Fios has better latency which is preferred by most gamers. Fios has 10.01ms vs. Xfiniti's 23.0ms.
Fair Usage Policy (FUP)
Fios does not throttle and has no data caps, while Xfinity sets a 1 TB data cap.
Customer service
There are a lot of complaints about Xfinity's customer service. They are even labeled as the bottom dwellers in overall customer satisfaction. On the contrary, Verizon got positive feedback from customers on their fast customer service response.